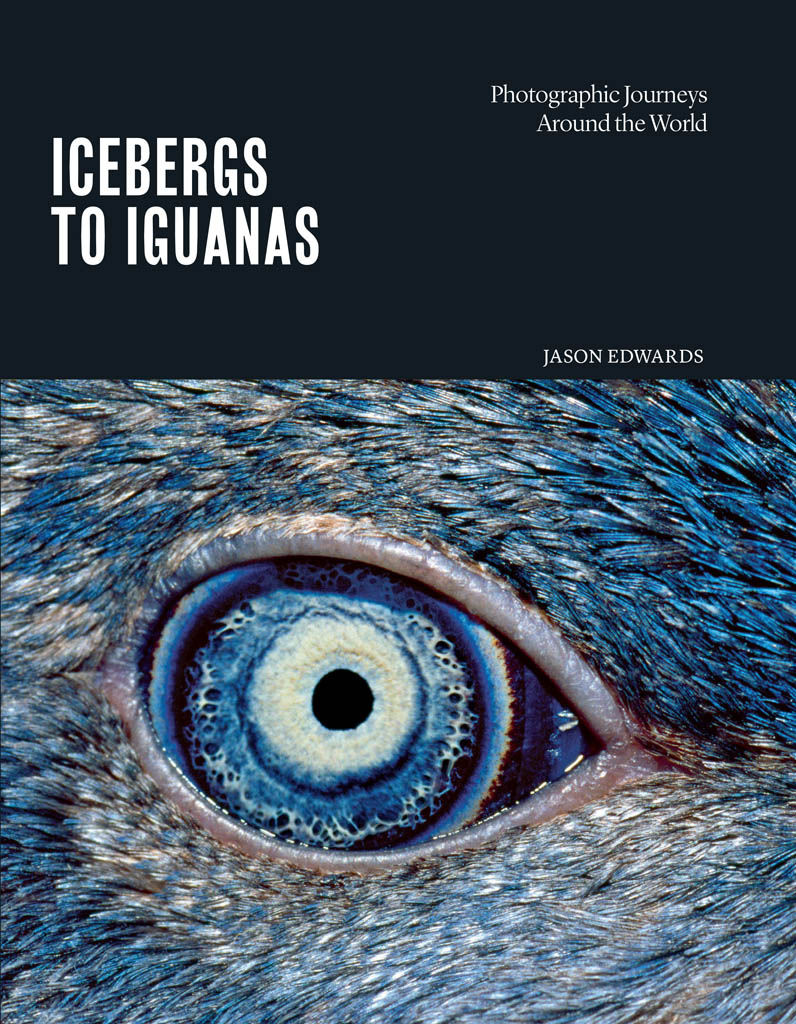 How do you sum up an over 30 year career in photography? For Australian National Geographic photographer Jason Edwards, this book is a personal view of his work and passion for photography over that period.
"For more than a three decades, I've roamed the world with camera in hand, bearing witness to the raw beauty of nature and the complexities of humanity. In every imaginable way it's been an adventure, over-flowing with wonder, hardship and laughter.
Icebergs to Iguanas explores some of the countless frames and unmapped miles through a collection of stories, brought to life by some of my favourite images and the wild, exciting, sometimes heartbreaking tales behind their creation."
Jason is primarily a wildlife and conservation photographer these days but this book takes you on a broader life and career path than that. To find out how he started listen to his Newton and Coe podcast on Eye for the Light.
The book's chapters are firstly heavily lead by photographs which explore eight different and varied geographical locations and subjects – from Africa's great migration to life and work in the ship-breaking yards of India to architectural photography of the Muqarnas in Iran. It encapsulates so many different genres of photography encountered by a travelling and working photographer.
Each sizeable chapter, and this is a sizeable book weighing at 410 pages, starts by contextualising the visual stories in the following pages. Primarily Jason is a visual storyteller. Many of his images speak on their own, but gathered together they tell deeper, often complex stories of the places, the events, the wildlife or the people he encountered and also how these impacted on him and his photography. It is both insightful and thoughtful.
As photographers there is an increasing tendency to see and shoot so it is a poignant reminder that we should all be thinking, seeing, shooting and thinking again. Of course sometimes we react to what we see and have to act quickly to capture it, but most photography takes time and the best photography has a thought process behind it too.
It is not clear whether each section represents a particular time in his life or career but, with some exceptions, the images feel like they were taken, and the stories completed and refined over a number of years and visits. So between the covers a progression and development of the author's photography and storytelling is there to see too. This is not surprising as in over thirty years of travels you learn a lot and your view of the world evolves along with world that is being photographed.
The final section takes us to Papua New Guinea and ends with underwater images of the coral reefs and life on them. Yet another style and genre of photography from a very talented photographer and they add a serenity to this tome. In three decades he has obviously shot both digitally and on film with lots of different cameras and this book handsomely illustrates that good photography isn't about camera gear or the medium; it's about the photographer and his or her vision and creativity.
You can take this book as a series of photographic adventures and take so much from the pictures alone. Combined with the section introductions, these provide a rich and fascinating read, but for me it is Jason's field notes dotted throughout the book which make it real. Sometimes almost too real! A life on the road seems very glamorous from afar, and it can be, but in some of the least tamed parts of the world these field notes bring home the excitement alongside the reality and dangers which need to be considered, managed and overcome.
The last few pages give us "observations on the journeys". It's only three text-only pages but it gives a wonderful insight into the man and the photographer, and well worth reading.
We often strive for perfection in our photography but we live in an imperfect world. Sometimes photography needs to reflect this both in image content but also in images which are more about feel than technical perfection. For any photographer, especially for a travelling photographer, this is a glimpse of a reality that will make you a better photographer, but also a better traveller.
Would I recommend the book? For the insight on both travel and photography, yes. For the photography and the visual stories, most definitely.
We're delighted to add that Jason Edwards has joined the judging panel for TPOTY 2023 and we look forward to him bringing his vast experience to the judging panel.