Big Blue distant horizons
If you have been following along with Chris' story about Monty, then you'll already know who I am. For those that don't, I'm Dave Newton, an award-winning professional photographer and filmmaker. Arguably more relevantly though, I was the creator of Monty, back when I knew him as a her I called Brenda.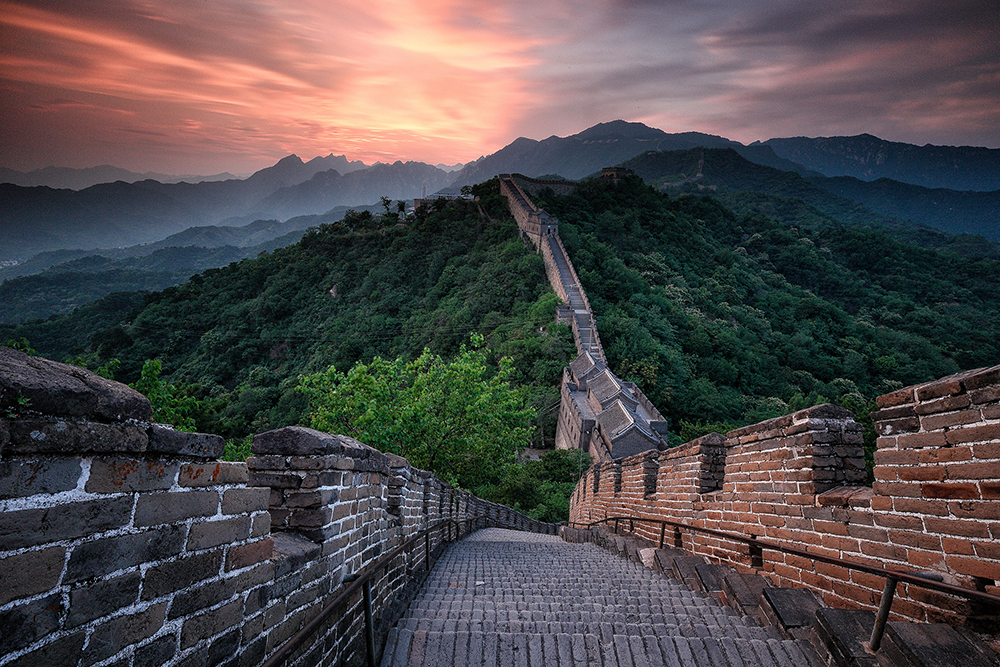 About 4 years ago a series of events put the idea in my mind that living in a van would be a good idea. I was travelling internationally for a lot of the year and paying rent on a large house that was nothing more than a glorified self-storage unit for my stuff. So a van seemed an obvious solution and it greatly appealed to my nomadic nature.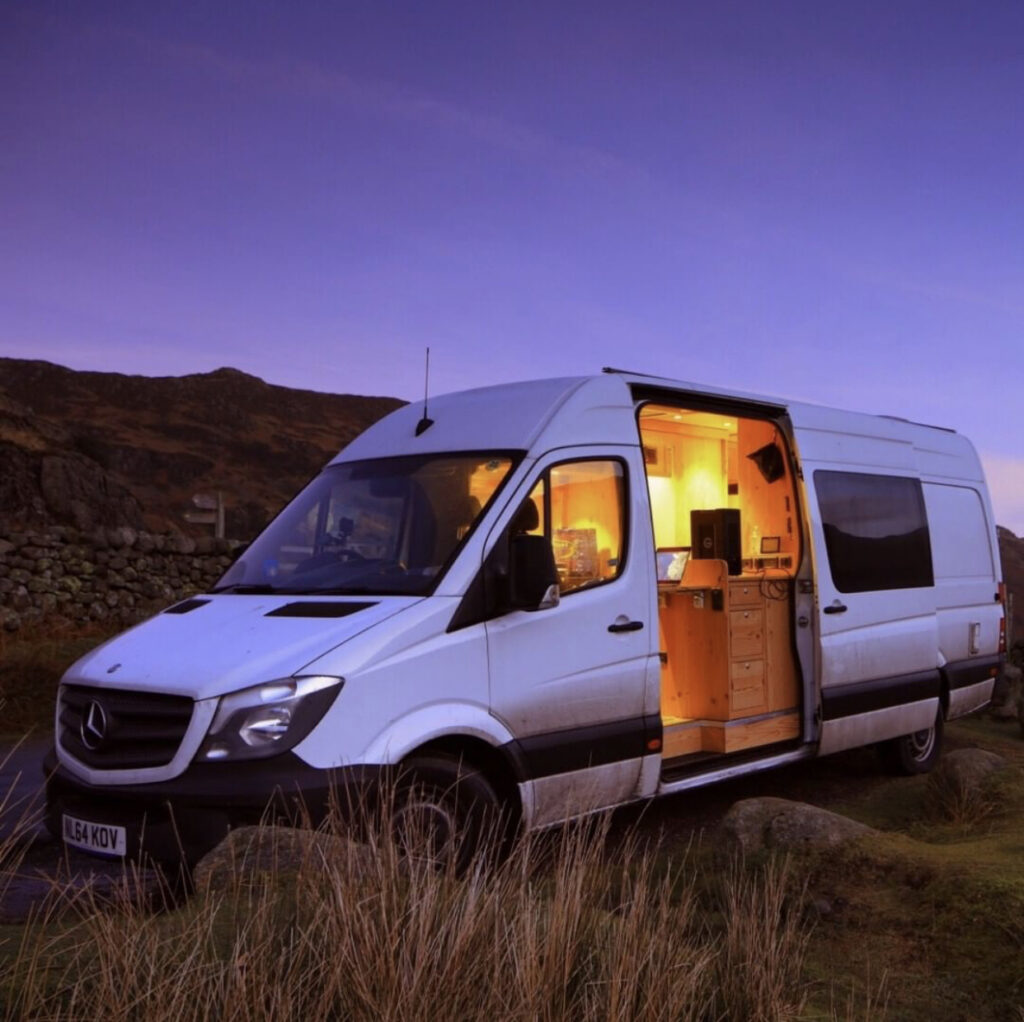 I bought a Sprinter van, had it converted to be entirely off grid suitable and set about living in it while I was in the UK. And it was amazing! But, 6months after I moved in, I met my now fiancee and a little while after that, we moved in to an actual bricks and mortar building. But none of that is really interesting to you. What is interesting is our next adventure.
You see my other half, Jess, is as nomadic as me. She loves a good adventure and had been imbibed with van life from a young age as her mum took her, her sister their cat and the dog all over the south west of England in a VW camper van as children, so it didn't take long before we were planning on something else.
As a child, I always imagined I'd live on a yacht and sail around the world. Well Jess and I did sail across the Atlantic together in 2019 and while we loved it, we decided to leave sailing for the future – there just wasn't enough interaction with other people and you only really get to see the areas around marinas or mix with other yachties. We wanted more, so we decided on what I'm going to glamorously call a land-yacht, otherwise known as an Overlander or expedition vehicle.
Last year, in the summer, at the height of Covid lockdown V.1, and while Jess was already pregnant with our now five-month old daughter, we bought an ex British Army truck. A MAN HX60 to be precise. And we then set about putting the wheels in motion (sorry, that was a bad pun) on having it converted.
Having been through a conversion process before, I had a reasonable idea of what was needed, but I also wanted Jess' input – we are going to live in this together, so it has to be right for us as a family, rather than me as a single person. And 'as a family' entails three humans and our dog, a 16 month old Hungarian Vizsla called Otis.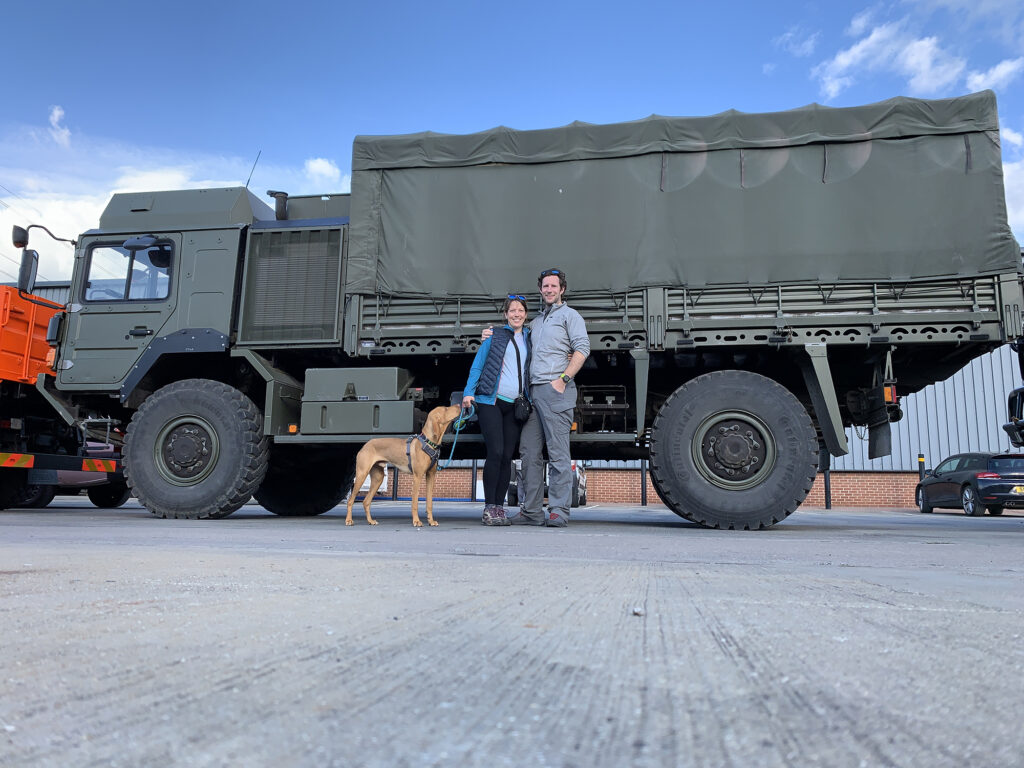 As of right now (June 2021), the truck is away in Cambridgeshire having the interior fit out finished. It's being done by the same guys that did Brenda (now Monty) because they're very good, they use real wood and they are passionate craftsmen who don't like anything 'off the shelf', preferring to make it bespoke to suit the needs of the customers and space available. For those thinking of following this route, have a look at OffGrid Campers.
To get to this interior stage has taken a little while because the Army truck needed to first be 'de-armyfied' and a habitation box needed to be built, again to our size and specification. This was carried out at Motorcraft Adventure Developments in Doncaster and it will be heading back there for final exterior work once the interior is done.
So as it stands, we are around two months away from completion… conveniently dovetailing with the proposed end of lockdown restrictions within the UK. There's just the small matter of me needing to get my HGV license sorted, something Covid put on hold for quite a while.
Once it's all done, we have a lot of rather nebulous plans. The world is large, there are roads and off-roads to explore, a daughter to raise and many images to be captured.
Over the coming months you can follow along with our progress and adventures both here, where I'll be writing exclusive content detailing more of the build, our reasons for doing this and our adventures, and over on our website at globaltraces.co.uk. We also have Instagram and Facebook (@globaltraces) if you prefer to follow along there. Oh and keep an eye out for video content coming once we get in the truck and moving along with our adventures.