Travels with Monty – Introduction
Meet Brenda! She's big and beautiful on the inside, or at least she was. This rather large Mercedes Sprinter van was specced and kitted out by photographer friend, David Newton, and he lived in her for several years, many shoots and many adventures – perfect for a photographer who wants to be off-grid and ready for the light even in the remotest places.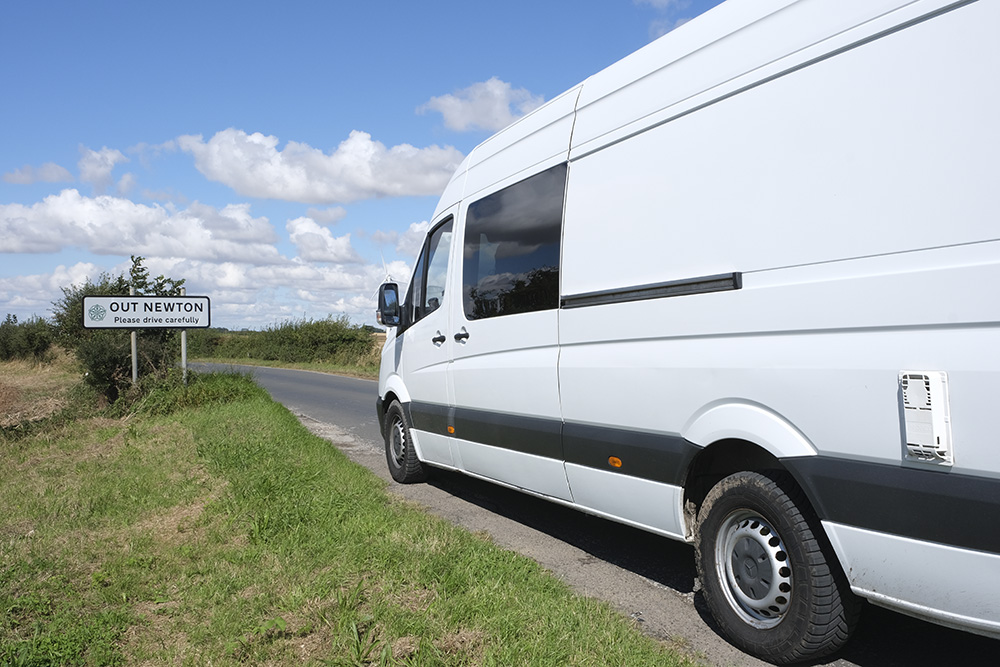 I acquired this beast in 2020, between lockdowns, but something was wrong. Brenda was definitely more masculine than any female I've ever encountered so she became he and from now on it is Monty & Me.
Now in case you're worried that this is yet another #vanlife story, you can rest assured it isn't! He's my travel companion and photographic assistant, a way to get to locations for the best light. It's not about him – or me – but about the photos and adventures that he enables us to have, so after this brief introduction it'll be where, when and how.
Monty: the inside story
He takes a bit of getting used to, though, at 7 metres long and approaching 3 metres high, but size is important as you quickly discover when you open the sliding side door to reveal a home on wheels. Everything is there – a kitchen, bathroom with toilet and shower, wardrobe and a big fixed bed above a garage for the bike and a strong box for the photographic gear, perfect for adventures! On top, solar panels and underneath batteries that charge as you drive as well so we're completely independent and off-grid. But you'll discover more as you travel with us.
Despite his size, Monty is surprisingly easy to drive when, like all long vehicles, you get used to turning corners a little differently, and like all Mercedes Sprinters, he's hungry for the open road. After being locked down in Suffolk for the spring and first half of summer, it wasn't too long before the first adventure beckoned. What a great sense of freedom he gave me!
So…. It was time to travel, time to experience nature and time to venture beyond local. At the end of August 2020 – peak tourist season in the UK – when restrictions were lifting, I chose Yorkshire for our first date. While the seaside towns were attracting plenty of people, the moors and dales were a large enough landscape and much quieter. Into the evenings and in the early mornings there wasn't anyone but locals and farmers to be seen.
Nature has a special place in my heart and Monty takes me right into the centre of it. To be somewhere special when everyone else has gone to their hotels or homes is a wonderful feeling and a privilege. I can carry on my photography into the last light, after the post-sunset exodus of everyone else from the same, hopefully, remote places. After the light has gone I can be in bed in 30 seconds if I'm exhausted or cooking a lovely meal with a glass of wine or a good whisky in hand.
Into the Yorkshire wilds
There were lots of places I could have stopped on the way north but I decided to head for Spurn Point at the mouth of the Humber river. Spurn Point itself is a national nature reserve. It's a spit at the mouth of the Humber estuary, where it flows into the North Sea. Accessible only on foot across a tidal causeway, you can park up near the Yorkshire Wildlife Trust building and walk onto the Point. Although you are only about 25 miles from the city of Kingston-upon-Hull, it's a tranquil spot, unless the wind is whipping in off the sea, and feels remote.
At high tide Spurn Point is an island, with a lifeboat station and lighthouse at the tip. There's plenty of bird life be seen, including short-eared owls (I didn't get a good shot of them so I'll be going back!), with walks taking you to the best spots and hides to shelter in and view or photograph from. In one I visited, the swallows were nesting and the noisy fledgelings were waiting as their parents flew in and out with their latest meal.
Offshore is the huge Humber Gateway Wind Farm, breaking the stark horizon of the North Sea and adding drama in the right light. A latish arrival at Spurn Point, an hour or so before sunset, and a high tide meant only a short walk with exploration for the next morning. However, it made for a great opportunity to sample the in-house catering and bar! Not quite Michelin but we're definitely heading in the right direction.
I was up early – why wouldn't you be in a place like this? The weather was overcast with fast moving cloud – wonderful for detail shots but not so great for scenics. By the coast, though, the weather is often changeable with fast scudding clouds that create gaps for the sun to peek through. Today rain would never be far away, but a little water never hurt anyone. I frequently see photographers preciously guarding their cameras against a sprinkle of rain drops but they are mostly water resistant, as long as you don't get water inside or in the electronics. Heavy rain, and especially sea water, are a different matter, though.
Moving up the coast towards Whitby, the weather gave us sunny spells – not bad for early September by the seaside in England ? – but fortunately it was windy by the time I got to Bempton Cliffs Nature Reserve. In the wind the nesting gannets fly, or rather glide, close to the cliff tops making them easier to photograph. They are beautiful flying machines and their striking blue eyes zing out of any pictures. As with most birdlife and wildlife, the key to photographing them is to understand the way they move within their environment before even putting the camera to your eye. Once you've done this the photos follow.
There are cliffs along much of the windy coast line from Flamborough Head north to Scarborough, but this coastline is also interspersed with long sandy beaches which make it such a popular English seaside holiday destination. This trip was just after the first lockdown in the UK so the seaside towns were busy, and as this was just an exploratory first trip with Monty, rather than one of the photographic ones which will follow, Monty and I gave Scarborough a miss and headed straight for Whitby and the lure of fish and chips!
Whitby has a fascinating harbour shielded from the North Sea by two long harbour walls. Above this harbour the ruins of Whitby Abbey, made famous by its association with the Dracula story, stands close to the cliffs. I'd photographed this some 15 years ago for a coffee table book called Eccentric Britain. A woodland car park about 5 miles out of Whitby was the night stop after filling my belly and Monty's tank. It was a quiet spot and we were gently serenaded by owls in the trees around us here in the middle of nature.
The North Yorks railway runs across the North Yorkshire moors from Pickering, inland, to Whitby on the coast through some picturesque moorland villages like Goathland. The railway stations on this line are beautifully kept in a traditional period style of the steam age which have been used in many a TV and film costume drama. This old steam railway runs through the striking moorland scenery so I drove onto the moors to recce locations for future shoots and enjoy the rolling landscape. However, the weather had also decided to be very English and pour with rain, limiting photo opportunities on this occasion. I had intended to return in late autumn on Monty's second and longer adventure, en route to Scotland, but the second wave of the pandemic was to scupper that, although I didn't know it at the time. These locations will be waiting for me, though, when we're able to take this.
After driving through Dalby Forest and picking up supplies in Pickering, our stop for the night was going to be a layby down a tiny country lane on the edge of the moors about 10 miles out of Pickering. I'd discovered a handy app called Park4Nite which lists laybys and car parks suitable for overnight camping. When I got there just before dark I was surprised to find it filled by a huge articulated lorry with a trailer! Perhaps it wasn't meant to be. I drove on, back onto the moors, and arrived at another spot suggested by the app. It was well after dark by the time we arrived and in the absence of any light we had no idea what the surrounding scenery looked like. I awoke to the sound of sheep. Poking my head out of the sunroof above the bed I was greeted by rolling hills on every side and a local farmer driving his sheep herd down past Monty and the hill to new pasture – idyllic England, or rather idyllic Yorkshire. This was a taste of why Monty and I have teamed up; to be experience wonderful occasions like this at the best times for photography.
After a drive south down the coast, we stopped once on the journey back south and back home, to enjoy a long walk and a final night in Lincolnshire woodland after a delicious roast lamb dinner cooked, of course, in Monty's small but perfectly-formed kitchen. Already this first trip felt too short, but it had served its purpose as an introduction to the freedoms and photographic opportunities which our future adventures together would offer.
Post-lockdown, after travel freedoms return, Monty and I will do our photographic adventure for real. Perhaps we can start with the Essex, Suffolk and Norfolk coasts but I can feel the pull of a longer adventure to Scotland, via the places I recced in Yorkshire on this first exploration, in autumn 2021.