Stormchaser
"We chase where the weather takes us; we could be in Texas one day, then drive all night and get to Wyoming for the next day."
James Smart is an Australian photographer whose passion for photographing extreme weather has taken him all over the US in pursuit of skies at their most dramatic. We speak to him about capturing tornadoes on camera.
Please can you tell us a little bit about your journey into photography, did you train as a photographer?
I didn't study photography at a school, I just picked up a camera and began teaching myself, using a combination of online workshops coupled with hands-on practice in the field.
Can you give a rough outline of your career as a photographer to date?
I shoot a variety of genres from landscapes to underwater (wildlife) as well as aerials. I enjoy having learned a range of types of photography because it gives me the chance to be creative. I started out with landscapes but moving into severe weather photography was the best move I made as it provided a real 'wow' factor. People really took to them – which was amazing – though now I'm doing a lot more 'prettier"' imagery as it's more accessible at the moment while we can't travel internationally because of Covid, so it's time to show the beauty of Australia.
You were awarded Best Single Image in a portfolio in the Landscapes and Earth Elements category of TPOTY last year for an image of a tornado. Can you tell us a little bit more about this shot and how you took it?
I generally take a few weeks in May or June to go to the USA to photograph storms with my brother. In this instance we were always on the move. We chase where the weather takes us; we could be in Texas one day, then drive all night and get to Wyoming for the next day, it is pretty tiring, and far from glamorous. It was our last storm chase day before heading back home to Australia and we didn't think storms were going to gather as fast as they did. As we got around the Matheson/Simla area, which is about 90 miles south east of Denver in Colorado, they began to intensify. All of a sudden tornadoes were touching down quite often (seven that I recall) but this specific one took the cake.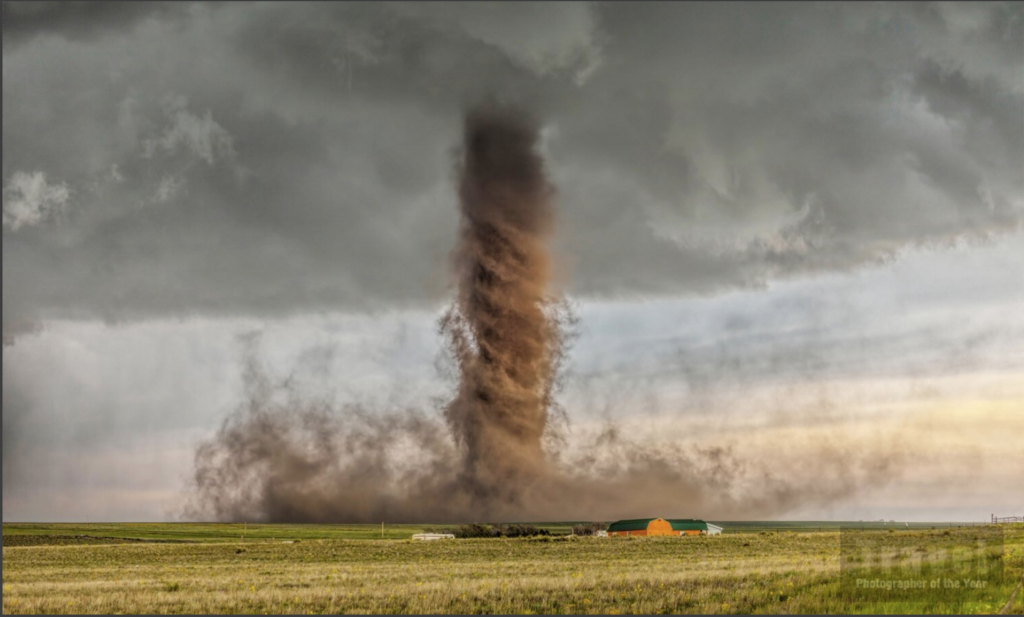 As it touched down it really didn't move that far. It was quite slow moving, and it stayed in the one field, taking up the soil which is what made it brown in colour.
We raced down the road running parallel with it and I was able to capture it at its peak – which is when I took the winning image – then down to its roping out stage. Luckily it narrowly missed hitting the farmhouse you see in the image. My brother and I chase these storms with our friends who are meteorologists and they pointed out that this one was anti-cyclonic – which only happens in around 2% of tornadoes – so this was pretty amazing too.
What drew you to storm chasing?
After watching Twister and Storm Chasers on the Discovery Channel my brother and I wondered if you could actually go and do it. We found a company called Extreme Tornado Tours and signed up and after the first trip became addicted.
How does it feel when the eye of the storm is approaching?
Exhilarating! When you first see the tornado the excitement builds, that is for sure. Once it touches down we're always looking for safe ways to get closer and see what roads we can take to better position ourselves. Every time I experience one it seems surreal; I've only seen ten or so of them, and quite a few have been rain wrapped, so visually poor, but it is always a thrill and the adrenaline takes over.
How do you plan a storm shoot?
It takes a lot of planning. Before we head out, we sit down with the people we chase with and select locations for the day. We look at potential areas and check the forecast. The conditions we're looking for are instability and warm moist air close to the ground. There's a lot more that goes into it, but that's where having meteorologist mates as my guides comes in. When it works out, it's very satisfying.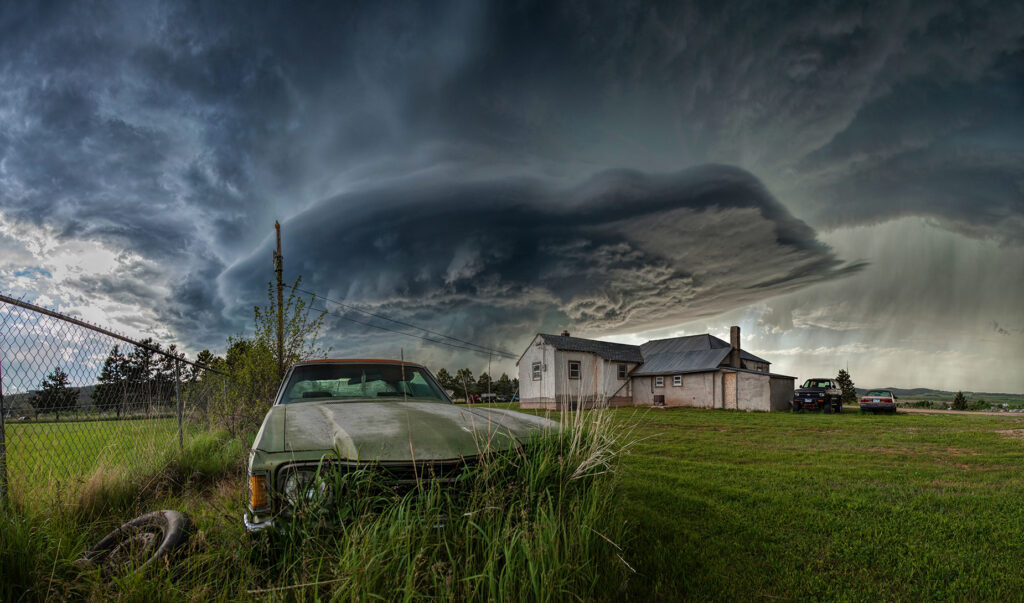 How do you go about composing your images when you're at the mercy of the weather? Can you predict a tornado's route at all? Are you able to visualise which landscape elements you can include in the composition? Or is it all done in the moment?
It really is just all done on the fly, in my experience. Sometimes we get lucky with some cool foreground objects – like an old rundown car or a barn – but generally just being able to capture the tornado or structure of the storm looks incredible with whatever landscape is in front of us.
Is there any special kit you need to take photos in these kinds of conditions?
The only special kit I think is a wide angle lens. The first time I went storm chasing I only had a 24-105mm which really limited my images. These storms are so large I couldn't capture them properly without having to go panoramic. The next season I took a 17–40mm which did wonders.
All that said, I did take the photo of the tornado with a 70-200mm so having a few different lenses helps.
Do you need to do a lot of processing afterwards or can you capture most of what you visualise in-camera?
Not overly. I do try and get all the detail I see in the clouds back into the image but I always try to be minimal with the processing.
Besides TPOTY what other awards and accolades have you been awarded?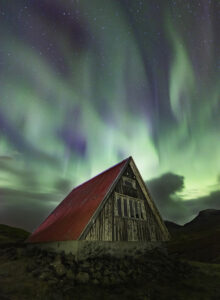 National Geographic photo of the year
Siena International Photography Awards Nature winner
WPE Gold/Silver awards
Trierenberg Super Circuit Weather Gold award
Why do you enter competitions and how do they benefit you?
For me it's to see how people react to your work, to get good feedback about any image is great. It gives your work a degree of respect I suppose, at least it feels like the hard work that goes into capturing a weather event, landscape or any moment in time is being received well.
Who are your photographic heroes?
Not heroes as such, but a few I enjoy are Darren Jew, Ami Vitale and Mike Olbinski.
Which photographers' styles and approach have had the most influence on yours?
Early on when starting out I really went with Peter Lik, as he had a gallery near me so I was inspired by his landscape work.
Are there other creative influences (art, cinema, literature etc.) that have impacted your photography?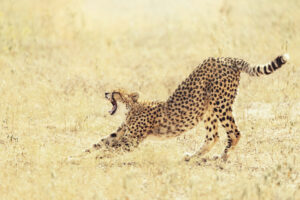 Documentaries like the BBC's Planet Earth and Blue Planet always inspire me to go to different places and try and get involved in wildlife photography. This is what inspired my trip to South Africa in March 2020 where I spent two weeks volunteering at Leo Africa a Wildlife Conservation trust. I went out each day tracking lions, elephants, cheetahs and so much more. I also helped with tree protection and removing dangerous plants to help the animals. The highlight was seeing the lion cubs which were totally adorable.
What's the best piece of photography advice you've ever been given?
That is a tough one, but I think the best advice is getting the composition right in camera.
If you can nail composition then I think you can only get better from there.
What sort of research do you undertake before you start a project or head off to a new destination?
I do a little bit of research on the locations I shoot; whether it's checking the best time of year, where the sun sets or rises, what phase the moon will be for astro shots. There are a few things you need to figure out before you go. Sometimes you get lucky though, which is always nice! I think the times I have just gone out on a random morning not thinking to check cloud cover, rain radar etc. and experienced some of the best sunrises I've seen as well as captured.
Are there countries and specific locations to return to time and again?
Yes, always the USA for storms. I would love to get back to Iceland again – that place is amazing and with so many photographic locations.
I want to get around my home country of Australia more. As that's all we can do in these Covid times, this year I hope to get up to Ningaloo Reef to photograph whale sharks, or South Australia for the great white sharks. There are plenty of options here at home.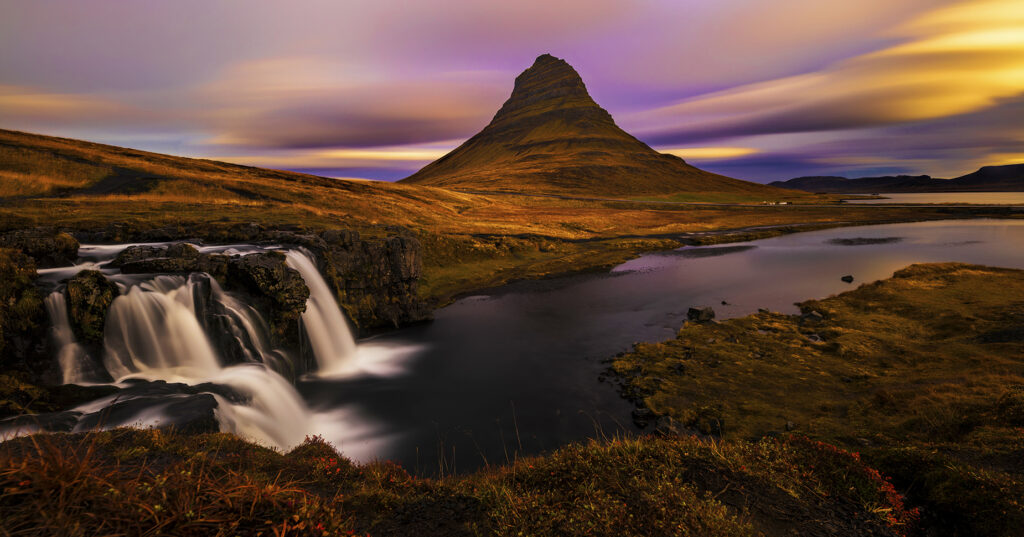 What are you working on at the moment?
I am planning a short trip to Tasmania around the Cradle Mountain National Park and Walls of Jerusalem National Park. The ability to take my four wheel drive across from Melbourne on a ferry is fantastic, I have never been over there for photography so it's exciting. There's plenty of opportunity for amazing hikes around those national parks, so I just really want to capture the beauty of the landscape – the lakes and waterfalls as well as do some astro photography with some nice clear skies. If I'm lucky the aurora australis might be active, but I'm not holding my breath on that one.
You can see more of James' work on his website .