Creating work with a purpose is the primary motivator for wildlife and conservation photographer Jasper Doest. He spends long periods of time getting to know the expressions of the creatures that fascinate him and the resulting imagery comes from a deeply learned understanding of their unique customs and manners.
Did you train as a photographer? If not, how did you get into photography?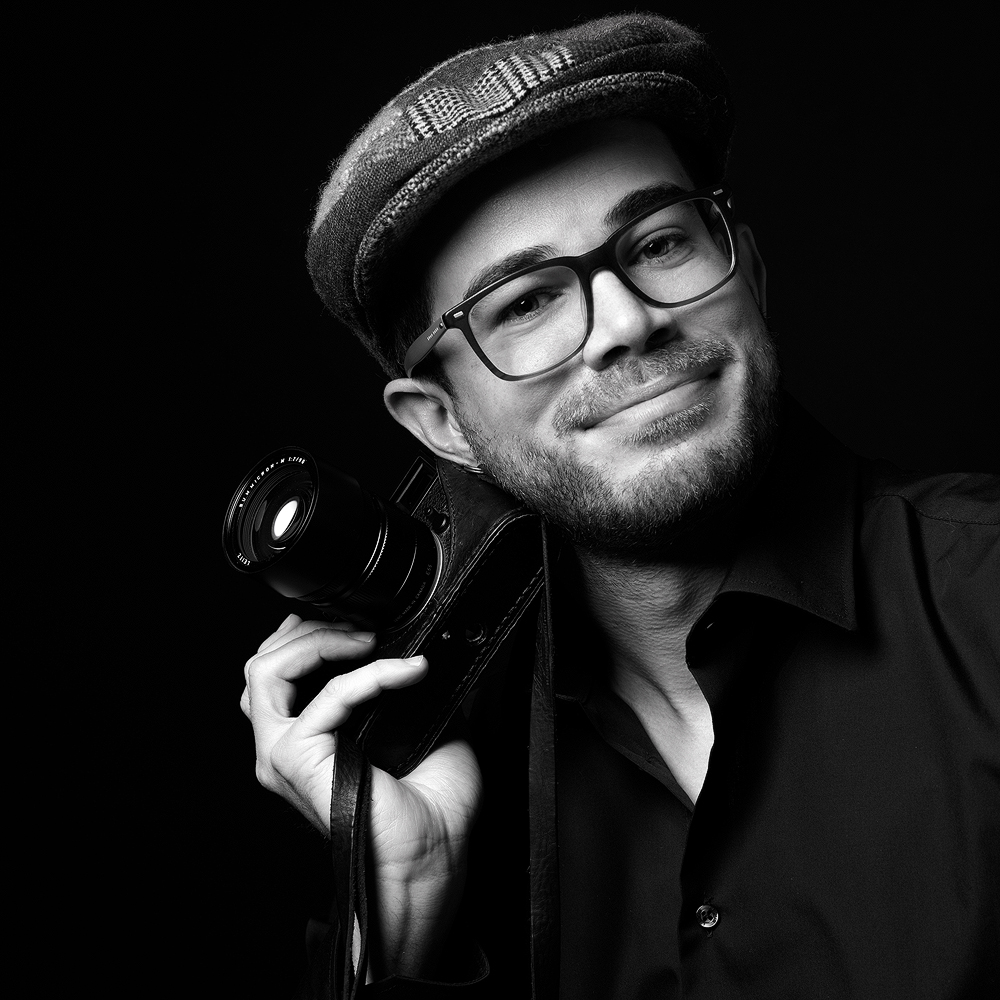 I don't have an official photography education but became a photographer after getting an ecology degree. However, I've been walking around with cameras ever since I was a child. When I was around five years old, my mother gave me her Kodak Instamatic camera and I remember also playing with my father's SLR camera. I loved the physical aspect of photography; the feeling of winding the film, the sound of the click. I still do, which is why I love my Leica M rangefinder…that still feels very similar to the film camera's I grew up with.
During my teenage years, the camera ended up on the shelf. Not because I lost interest in photography, but just because I gained other interests. When I turned 20, I purchased a simple SLR myself before travelling to Greece for a holiday. I remember shooting eleven rolls of film in two weeks and was reminded how much I loved the photography process and, additionally, it gave me a reason to go out and explore the world. Soon my love for photography would turn into a passion, which then turned into an obsession.
Can you give a rough outline of your career as a photographer to date?
I went to study biology in Amsterdam to learn more about the subjects I was photographing and did an MSc in systems ecology, where I studied the effects of climate change on plant growth. After my university fieldwork in Svalbard in 2004, I entered some arctic fox images into the professional category of a national photography competition in The Netherlands, even though I had never published a single picture. To my surprise I was awarded as the overall winner of the competition, which made me see the potential in reaching out to a wider audience and communicating about climate change, animal welfare and other issues. I had nothing to lose and went for it.
In 2008 I was selected for a portfolio review with Kathy Moran (National Geographic) who suggested I start building a relationship with the Dutch edition of the magazine. So following her advice I started working with the Dutch edition of National Geographic Magazine in 2009. This was a great learning experience in working on stories instead of single images.
In 2012 a picture I called 'Relaxation' which depicted a sleeping Japanese macaque – a photograph that was also part of my winning portfolio in Travel Photographer of the Year that same year – was chosen as the cover of the Wildlife Photographer of the Year Portfolio, which led to my first international National Geographic publication.
To improve my storytelling skills and feel more comfortable photographing people, I attended the 2015 Missouri Photo Workshop in Perryville, Missouri, which turned out to be a life-changing experience. I was awarded first prize in the Nature Stories Category of the Dutch Photojournalist of the Year contest that same year and it somehow gave me the confidence to leave my comfort zone and start following my curiosity.
After my surprise success in the first competition I entered, awards have given my photography great exposure and I've done well in them, with success in World Press Photo, Pictures Of The Year International, Sony World Photography Awards, Wildlife Photographer of the Year and European Wildlife Photographer of the Year since 2013.
You won the 'water' category of TPOTY in 2015 with a beautiful image of a stork in a rubbish dump which was part of a larger project. Can you tell us a bit more about the 'Gone to Waste' project?
In 2009 I decided to spend time photographing white storks. They're one of the largest bird conservation successes in Europe after being close to extinction in the 1950–70s. That same summer I decided to follow these birds on their annual migration south and at the end of summer I ended up on a large open landfill in Spain, where I found thousands of white storks foraging. I was immediately struck by the idea that a bird that symbolises new life in many European folk stories was foraging on the excretions of our human society and felt the urge and responsibility to share this alarming sight. However, that wasn't so easy as these landfills are privately owned businesses and they weren't keen on snoopers. Also, it didn't help that I didn't speak any Spanish.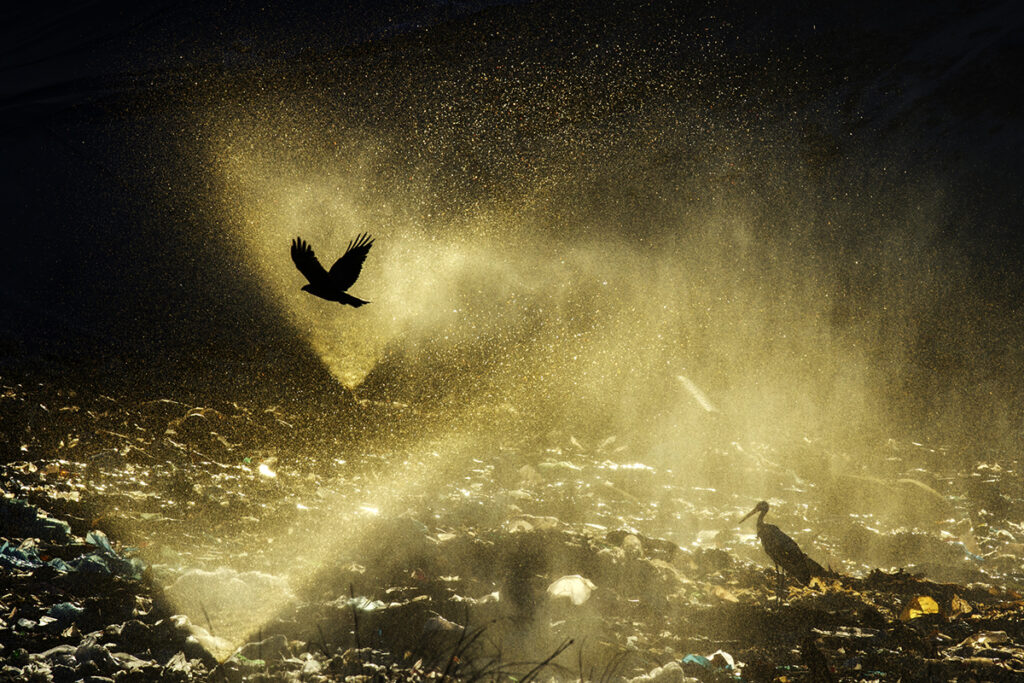 It took me two years and the help of many Spanish friends before I got my first permission to visit one of these landfills. It was a great start, but I needed to improve the work if I really wanted to do justice to these magnificent birds.
I knew that if I wanted to make people care, I had to create photographs that would give the viewer the idea they would actually be there on the landfill amongst these white storks. To do so, I placed two cameras equipped with studio lighting on the landfill that I would control from two laptops from a hide 50 meters away. As a landfill is an industrial area with many bulldozers working around the clock, I would have to rebuild my setup every night. Also, not knowing where the trucks would dump the fresh waste would make the process depend on trial and error and stubborn determination.
When I finished the work in 2014, the story was no longer about storks, but became an alarming story about the state of the planet, plastic waste and our everlasting over-consumptive behaviour. The story eventually got published in every European country along the storks' migration route and has been part of my talks on sustainability for a wide selection of international audiences.
The images in your 'Meet Bob' series are so striking and humorous, but there's a serious side to it too – can you tell us a little bit about how Bob helps educate people about protecting wildlife?
Bob is a Caribbean flamingo, from the island of Curaçao. His life took a dramatic turn when he flew into a hotel window, leaving him severely concussed. He was cared for by my cousin Odette, a local vet who also runs a wildlife rehabilitation centre and conservation charity – the Fundashon Dier en Onderwijs Cariben (FDOC). Existing disabilities meant Bob couldn't be released, but instead he became ambassador for FDOC, which educates locals about the importance of protecting the island's wildlife.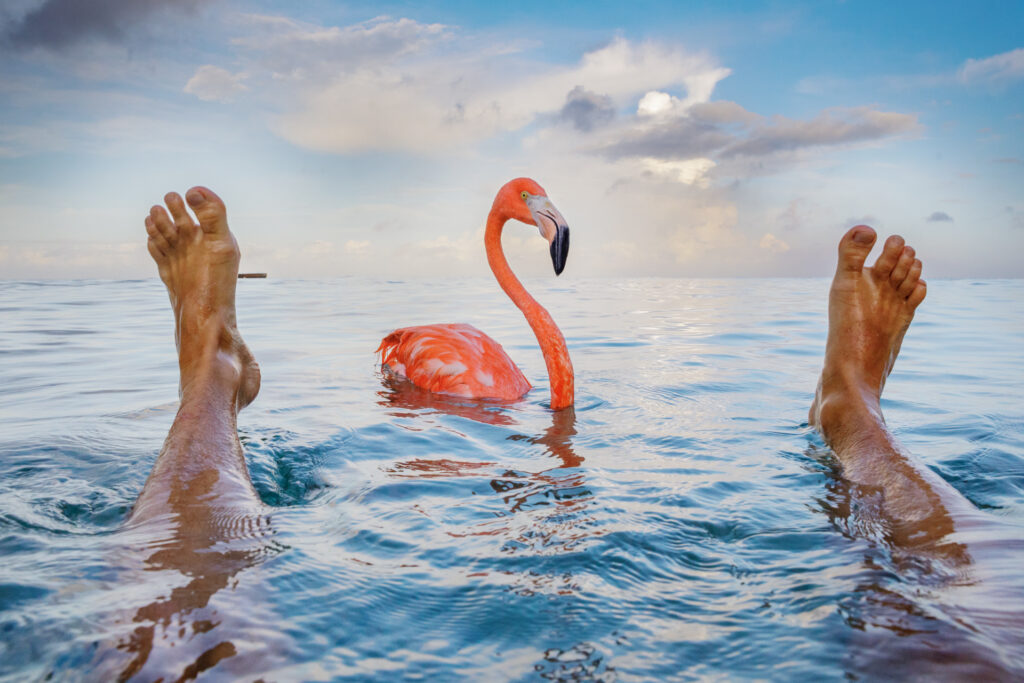 We can see in the images that he gets to meet kids at local schools, how did they react to him?
Wildlife education is one of the pillars of Fundashon Dier en Onderwijs Cariben. Shortly after my cousin Odette rescued Bob, she realised he would never make it back to the wild. But because he is so relaxed around people, she recognised a unique opportunity to use Bob during her conservation education sessions at the local schools in Curaçao.
When I accompanied them on a classroom visit, the kids were restless when Odette and Bob entered and there was a buzz of excitement in the air. The teacher had difficulty getting the kids to sit still. Bob didn't pay much attention and stepped perkily through the classroom. A girl started to cry when Bob spread his large wings. The girl sat with Odette in front of the class and stopped crying when Odette started to speak. The kids hung on every word Odette said while they looked at Bob. He's the star of the show. After that they went home and got to tell their friends about what happened today and what happened to their new pink friend. They made him part of their story and continued to make drawings many months after Bob's visit. We've even received drawings from schools abroad that use Bob's story during their conservation lessons.
Is Bob quite comfortable around humans? Did he take a while to get used to you?
During Bob's rehabilitation process, Odette found out that he had previously lived in captivity, making him very relaxed around humans. However, for some reasons he was released again, which got him into trouble as he started to forage around human habitat and eventually crashed against that hotel window.
But even though Bob is used to people, that doesn't mean I can just walk up to him and he'll be ok with that. It doesn't work that way with people either. Gaining access to your subject is key as a photographer and in order to do so, you need to be able to read the room and take time for your subject to feel comfortable with your presence. I always keep an eye on behavioural changes that will tell me when to slowly back off again. You shouldn't forget that as a photographer, you are a guest in some else's environment and while you are there to do their story justice, you also want to make sure you are allowed to come back when you need to. So developing a sixth sense and knowing when enough's enough is essential.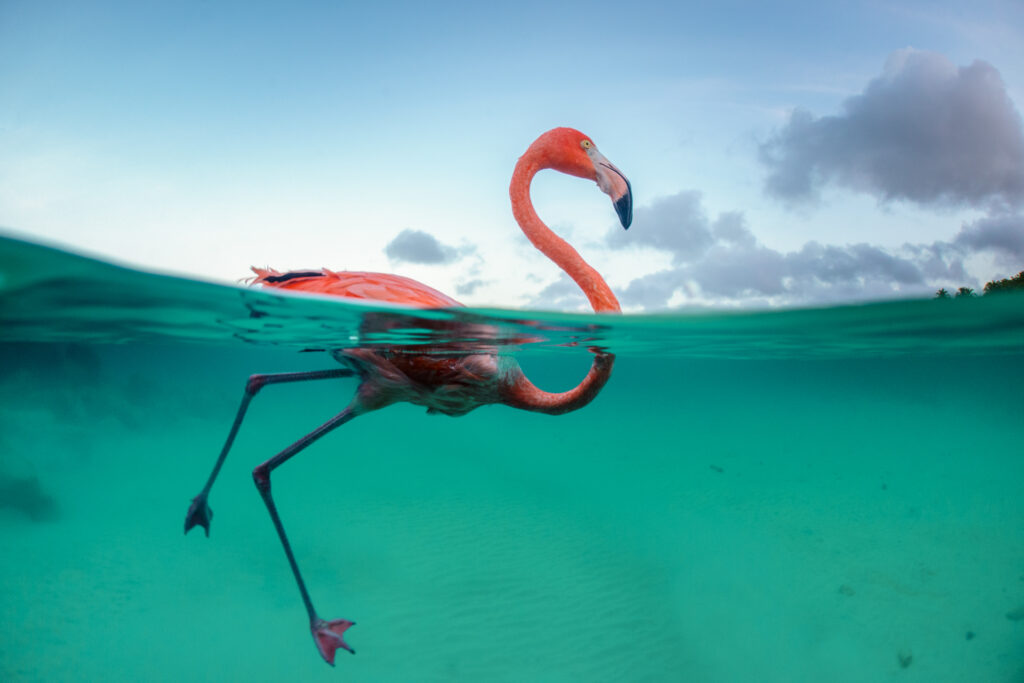 Are there any other environmental issues going on in Curaçao that Bob is emblematic of?
I would say that egocentrism and human ignorance are two of the biggest threads today. Odette receives many animals whose injuries are caused by this. Pelicans beaten-up by fishermen (as they compete for the same food source), flamingoes wrapped in plastic of some sort and sea turtles with fishhooks are just some of the examples. This is also why Odette feels that environmental education at a young age is essential. She has the ability to use the children's natural curiosity and love of animals to educate them about these local wildlife and conservation issues. Conservation education at this age is so important. As the Senegalese forestry engineer Baba Dioum once stated: "In the end we will conserve only what we love; we will love only what we understand; and we will understand only what we have been taught". We can fight ignorance, and that's exactly where Bob plays a major role, winning the hearts of many.
Much of your work is about human/animal interactions, often with creatures in human settings rather than in the wild. How do these ideas start to germinate in the first place? For example, your 'Sacred no More' project is so unusual and features some incredibly powerful images that leave the viewer with an instant empathy for the predicament of the macaques. Was it your interest in macaques that led you to their role in contemporary culture or vice versa?
I get this "how did you come up with that idea " question a lot and I always respond saying they are not ideas. These aren't stories that I think of behind the desk. I find these stories following my curiosity while being in the field. 'Sacred no More' is an excellent example of such a process where I had been photographing Japanese Macaques at the famous hot spring of Jigokudani Yaen-koen for over a decade. Here wild monkeys are being fed on a daily basis, so they don't venture out to the fields and raid crops. At the same time it has drawn in thousands of visitors annually. It all sounds great, the monkeys have food, the farmers' crops are safe and the local community benefits from the tourist influx.
So after all these years photographing these macaques, I'm standing alongside the main hot spring overlooking the scene, when I start wondering how the daily feeding is affecting the population. As with most species, food supply determines population growth, so it didn't take a scientist to realise that the population had been growing rapidly during the past decades. After doing some more research, I ran into a growing human-wildlife conflict that eventually got me to follow monkeys that ended up in the entertainment industry as a result of poor population management.
Where does your empathy for wildlife come from?
From a belief that has developed while spending so much time in the field with non-human beings – that we are not that different. We are all part of a larger ecosystem and we all play a role. Just because animals express themselves differently to us, doesn't mean their expressions are less meaningful. We're gauging animal value based on human assumptions, which isn't right if you ask me. If others – animal or human – are incomprehensible to us, it is because we are not familiar with their customs and manners and the other things that give meaning to living together. Once you get to spend time with other species in the way that I have, I don't think you can do anything but develop a sense of empathy for them.
Why is covering environmental issues photographically important to you? And what sorts of impacts have you seen with your images?
I realised this is a very complicated issue, but one that has room for improvement. If I could tap into the basis of Japanese Shintoism – and especially the role of macaques in Japanese culture – by creating a story that would ask the question: how is it possible that the Japanese macaque has gone from being a revered religious symbol to a secular scapegoat, a defaced outcast and target of mockery? It's a question that had to be asked within the Japanese society to open up a conversation on where they want to go in the future when it comes to human-wildlife relationships. As the Japanese are generally very respectful, especially when you are respectful toward their culture, I felt I had an opportunity to ask these difficult questions, and whenever there's an opportunity I simply feel it as my responsibility to take it with both hands.
I was happy to see National Geographic Magazine publish this difficult story, which has allowed me to start this conversation in Japan and at the same time reflect upon our relations with other animals in other countries (as situations like these are certainly not unique to Japan). Unfortunately the story got published at the start of the Covid pandemic and I felt the subject matter was a bit too heavy for people during these difficult times. But I will continue my mission to continue this conversation, knowing that if I want to initiate change, the work doesn't end after the photographs have been taken. The photographs allow me to start making a difference… so once a story is published, the work is only just beginning.
Who are your photographic heroes?
There are simply too many to mention and I always feel like mentioning a few, which does injustice to many others who have inspired me along the way.
Which photographers' styles and approach have had the most influence on yours?
I can easily lose myself for hours looking at the documentary work of visual storytellers of Magnum and my colleagues at National Geographic Magazine. Their ability to tell layered visual stories within a single frame inspires me every day.
What's the best piece of photography advice you've ever been given?
Again, there are many here… Joel Sartore telling me: "learn how to use a flash", Ken Geiger explaining to me I should capture what I feel. I remember Kathy Moran telling me to find my visual voice, even though I had no clue what she meant at the time. Now I understand. This advice along with many others have all been pieces of the puzzle that I'm still trying to solve.
Is there anything we haven't covered that you'd like to add?
Like I said, if you want to make a difference, the work often starts once the photography is done. I always wanted my work to have purpose, to be able to make a contribution…which is why I'm really excited to have just published Meet Bob, through which everyone can help to make a difference.
Meet Bob is an intimate love story about compassion and empathy. More specifically about how two individuals, that depend on each other, initiate positive change by educating future generations.
The story of a flamingo named Bob and his rescuer Odette, is a reminder that individual actions, driven by love and empathy, can have an enormous positive impact on the world around us. At the same time the book provides an opportunity to help Bob and Odette on their mission, as all net proceeds of Meet Bob will be donated to conservation and education in the Caribbean.
---
More information about Jasper Doest
As a true believer in the power of photography to initiate change, Jasper Doest is an International League of Conservation Photographers Senior Fellow and a World Wildlife Fund ambassador. His work has been contributing to international journals such as National Geographic Magazine, Smithsonian Magazine and GEO and received numerous awards, including World Press Photo and Wildlife Photographer of the Year.You can see more of Jasper's work on his website and you can find out more about the Meet Bob book here.