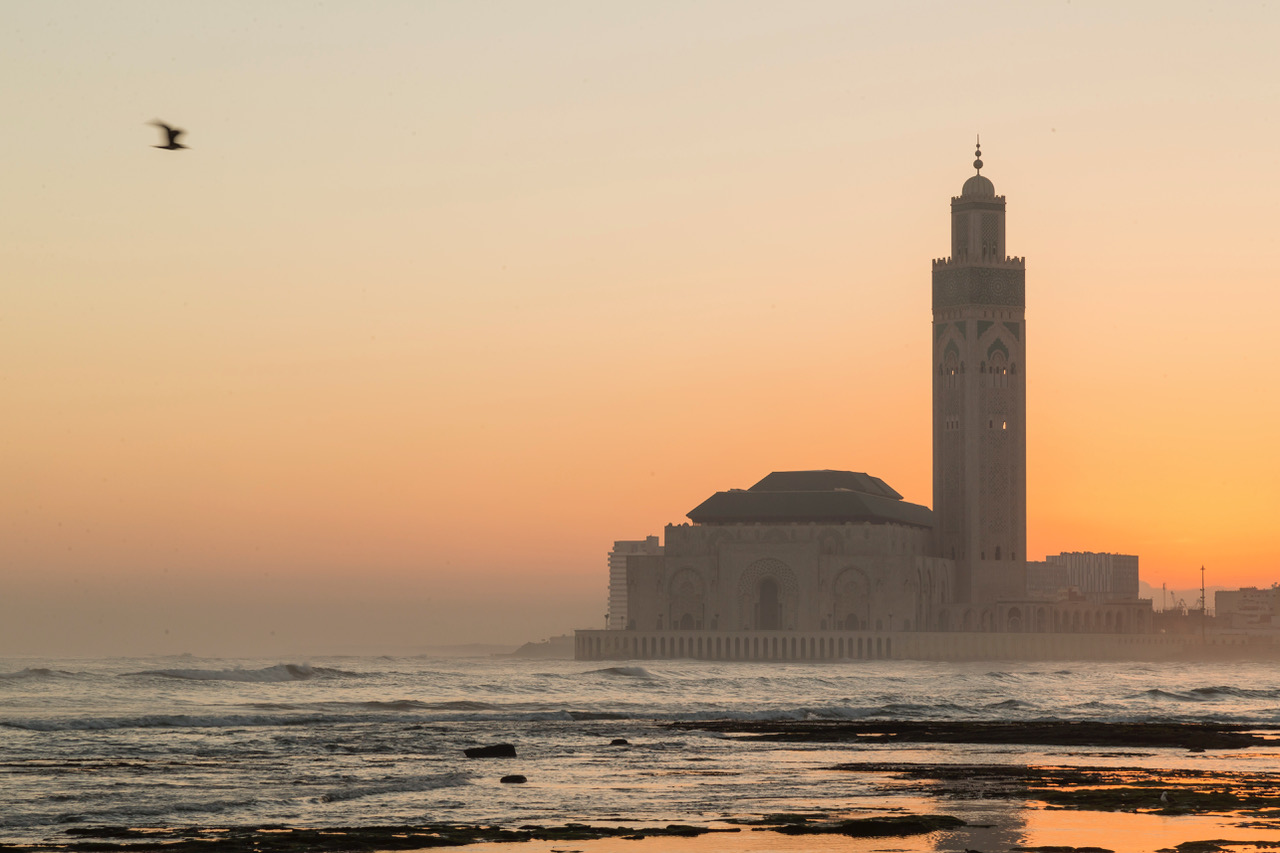 PART ONE – Casablanca
Although I have been travelling far and wide for assignments for over 20 years, it is still very difficult not to pack preconceived views and visuals of a destination into my mental camera bag. Such was the case with Casablanca in Morocco. The name alone conjures up a nostalgic magic, which may or may not have ever existed.
The fact that the original 1942 epic film was made in Burbank, California doesn't really seem to matter, the visuals are still there, imprinted on my mind and muddling my view and expectations.
When I am first approached to travel to a new destination to take photographs, my first thought is always the same. 'What could go wrong there?' Then I work back, through research and logistics, equipment and sourcing local help, until I finally take a deep breath and begin to get excited about the prospects of the shoot.
For this particular shoot – an editorial one for a travel magazine – with a loose brief asking me to illustrate the art deco heritage of the city and an almost finished written story describing how Casablanca has a "sublime and unsurpassable allure" it was up to me to make the most of this rarely visited and often bypassed city.
Visualising the destination
I would normally research the best photography I can find of a destination, paintings that were influenced by the place and music from the area. My visual storyboard often starts with a colour palette, but this was different. I was to arrive uninspired. My guide had never been a guide before – the publication found her on Facebook when I was already on the plane to Morocco! – and didn't have a list of the normal tourist sights to take me around. There were no carpet shops and hefty entrance fees, just me and a retired mum bumping around in her old Renault 5…
At first she thought I was crazy to insist she picked me up each day before sunrise and stay out till after dark, but in time, we bonded as she realised I was growing fond of her home town.
So here was my dilemma. How to show nostalgic references to the past yet find a way to encourage visitors to embrace and understand the new Casablanca, often overshadowed by its more famous and historical big brothers, Marrakech and Fez.
In search of the heart of Casablanca
When I first arrive at a new destination, it takes a day or two to get my visual story telling bearings. What to show, what to leave out and how to picture the 'allure' of a place and be true to the writer's words and my own observations.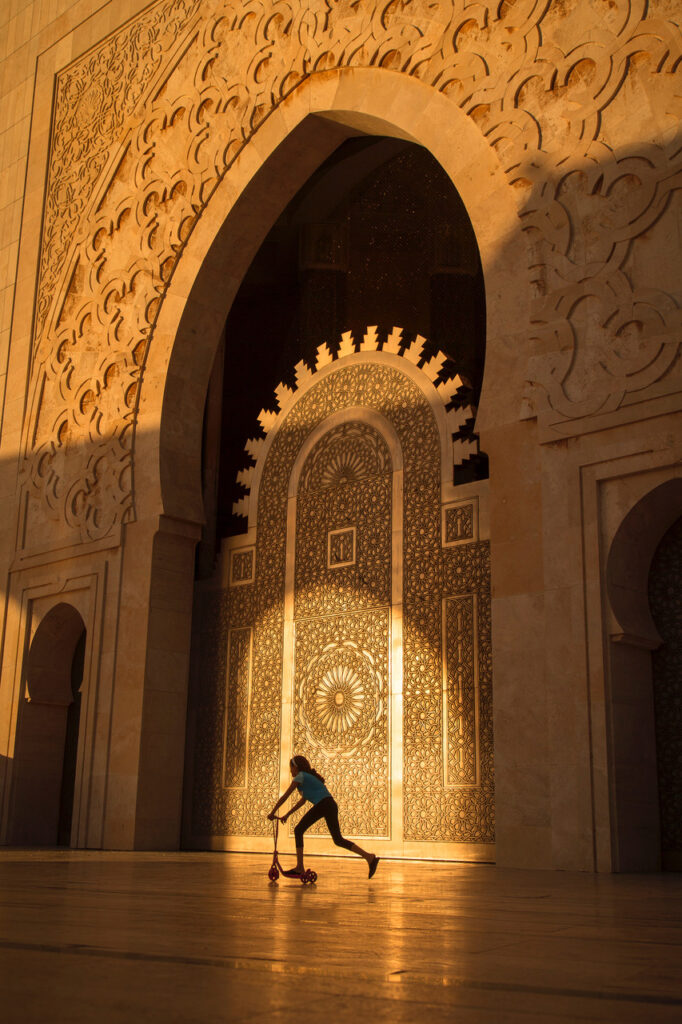 The city has lived many lives from its early beginnings to an art deco French splendour to redefining its own voice, post-colonial days, right up to the present.
I learnt that the French buried their deceased in a Christian graveyard, now lovingly looked after by a Muslim man named Mohamed. This was my link. The past should be illustrated by how it is in reality today. I had an idea to present it as a backdrop to a modern way of life in the city. I visited the faded 1930s velodrome where cyclists still race, and tried to use art deco lines of composition in my images.
The Corniche is where the young go to be seen at sunset surrounded by crumbling French era seafront restaurants, this was to give me the "now". But my biggest surprise was visiting the grounds of the city's mosque.
Designed by a French architect under the guidance of King Hassan II , it is built on reclaimed land directly on the Atlantic Ocean. And so the elements of past and present came together with an added twist to give me my visual story.
This is far more than a place of worship, its modern design brings people together from all faiths and cultural backgrounds. For a photographer, this is gold.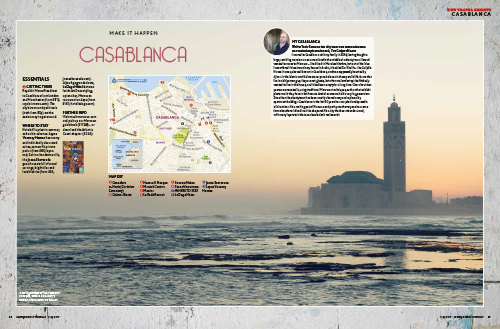 Talking of gold, taking photos in the early evenings and shooting into the light will often create a gold, romantic feel. Once I have a few shots from the trip, I like to keep the continuity of the colour palette and when I'm 'in the edit' – that doesn't mean colour correction, it simply means choosing the images that best tell the story – I choose pictures that best suit the palette to create an emotional response.
I want to keep that overall feel throughout to create an overall sense of the place, rather than rattling through from blue skies to golden water to bright interiors.
It's good to leave people wanting to see more – they should make up the final part of the story with their imagination. This is even more important for places which on first inspection might not appeal. You want to inspire them to go and complete the picture with their own experience.
Observing the light – where and when the light would be best – I returned several afternoons to try to capture the allure of Casablanca. And as Humphrey Bogart famously said, "I think this is the beginning of a beautiful friendship."
Any shoot will obviously generate unused images for a particular publication. Above are some from this shoot, which go into the archive for other projects.
Madame 'Gitane'
Photographic journeys are all about making decisions; you listen to others and do research but you need to go with your gut instinct. While photographing the interior of an old rundown bar in the centre of town, my guide advised me 'the owner is on her way, and not to be missed' so I decided to stay – and was a little surprised at what happened next.
A lady of mature years suddenly pushed back a beaded screen and announced her presence, as if taking to the stage. She proceeded to tell me – in a strong French accent and with a 40-cigarettes-a-day croak – how she used to be the life and soul of the party and, although she had had many husbands and lovers, she had never met an Englishman she liked. With a wink and shrug, she began to sing 'The Streets of Amsterdam' to me, at very close quarters.
My instincts told me to bid 'Au revoir' and, with a nervous smile, move on. But since that encounter, I began thinking: perhaps Madame Gitane – in her own uncomfortable, kitsch, OTT way – is the perfect embodiment of the residual romance I had come to Casablanca to find.
My original instinct was that it wouldn't do justice to modern-day Casablanca to simply show an old colonial bar – it's important to show it as the contemporary city it is. Some global cities have been a little too quick to tear down their past; here, the locals have taken their city back – but have left the colonial history there for people to see.
Casablanca nowadays absolutely has the chic French 'see and be seen on the boulevard' element of daily life but, to me, there's an element of romance in old buildings, in damaged buildings and even in unfinished buildings – it means that somebody had a dream once. And that seems about as romantic as you can get.