Kathy Moran is a softly-spoken bundle of knowledge and experience which any photographer who wants to get their work published should listen to. Her advice is priceless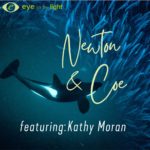 She has worked on over 300 stories for National Geographic and with some of the best photographers, especially in the field of wildlife and conservation.
As a founder member of the International League of Conservation Photographers and at the forefront of many of National Geographic's wildlife and conservation stories, Kathy is still heavily involved in wildlife photography since leaving the magazine.
She has just taken over as chair of the Wildlife Photographer of the Year and begins her three year tenure this year. You certainly won't regret it if you listen to her chat with Newton & Coe.
Kathy Moran in conversation with Newton & Coe
Images courtesy of Brian Skerry, Michael Nicholls, Brent Stirton and National Geographic