Where is Havana?
Havana is the capital city of Cuba and it's on the northwest coast of the island. It's the biggest island in the Caribbean, a hundred miles or so south of the US state of Florida.
What is it?
Havana has a population of just over two million and is a port city founded as San Cristobal de la Habana in the early 16th century. It was a Spanish colony, serving as a convenient fortified base for Spain's explorations and invasions into the Americas. It's known for its music, kaleidoscopic culture, a sweeping ocean promenade and a UNESCO World Heritage-listed Old Town (Habana Vieja) full of elegant yet decaying buildings. It also has a decadent edge that has survived eras of Cold War isolation as well as more recent commercial development.
How did it rise to stardom?
Following Independence from Spain in 1898, Cuba fell heavily under the influence of the USA (the now-infamous Guantanamo navy base at the eastern end of the island even became US territory 1903). Its free-flowing booze increased Havana's appeal to US visitors during 1920s prohibition and Florida crime gangs set up shop with their clubs and casinos. The processions of vintage American cars that still cruise Havana's Malecón waterfront are relics of this era. The Soviet-backed communist revolution of 1959, led by Fidel Castro and Che Guevara, saw many Cubans flee to the USA but, for those that stayed, resulted in years of isolation from the rest of the world. Travel to Cuba for those from outside was limited.
After the collapse of the Soviet Union in 1994 Castro declared that "Only tourism can save Cuba". This was helped along in no small part by the music and subsequent film of the Buena Vista Social Club, a collective of musicians from the Buenavista part of the city who'd been assembled to showcase the popular styles of Cuban music. Their seductive salsa-friendly music went global and added to the allure of this enigmatic country.
A relaxation of travel restrictions for US citizens during President Obama's time in office gave extra support to an economy that was long handicapped by political and economic isolation.
What do the typical pictures look like?
Those 1950s American cars are crying out to be photographed and nobody with a camera can resist the temptation. Likewise the musicians in every bar and square, or the cigar-smoking busking ladies in flamboyant sugar-plantation 'traditional' costumes. The cigars, the car and the music are genuine, alluring aspects of Cuban culture, just like the quirky spherical 'Coco Taxi' auto rickshaws, but they have been photographed in predictable fashion a million times.
What's the problem?
TPOTY founder and chief judge Chris Coe says: "In the early years of TPOTY we saw all the clichés. I remember four years running we had shots of a woman smoking a cigar entered by four different people, and it was the same woman! Charlie Waite was a judge at the time and told us how even he'd photographed her years and years before, too. She was clearly very well-known and earning a good living from the tourists and photographers." It's worth remembering that seemingly fleeting moments are not necessarily all that fleeting.
It's easy to carry mental images of throwback American cars, shuffling salsa music and women with oversized cigars and want to replicate them yourself. They've become a visual shorthand for the country but there's much more to Cuban culture than that.
Are there winning shots of Havana?
Robin Yong won the Street Life category in 2019 with an unposed portrait of a moment of intimacy between his newfound friend, wannabe model José, and a lady who took a shine to him as he walked down the street. The judges all loved the warmth of affection in the scene and its rendering in black and white gave it a timeless feel. It clearly resonated with a greater audience, too, as it won the People's Choice award, voted for online by the public.
Also in 2019, Sumit Dua won the Dusk to Dawn category with a much more enigmatic street scene which depicted two people in different rooms of an apartment – or perhaps neighbouring apartments, it isn't clear – yet both visible from the street below. The judges loved the cinematic quality of the shot, the way that the light from inside weaves with the night and the streetlights outside as well as the intrigue aroused by the poses of the people within. Were they mid-conversation? Mid-smile? Mid-argument? It's an everyday moment that could take place anywhere but, with the architectural clues and heady evening light, it's firmly rooted in Havana.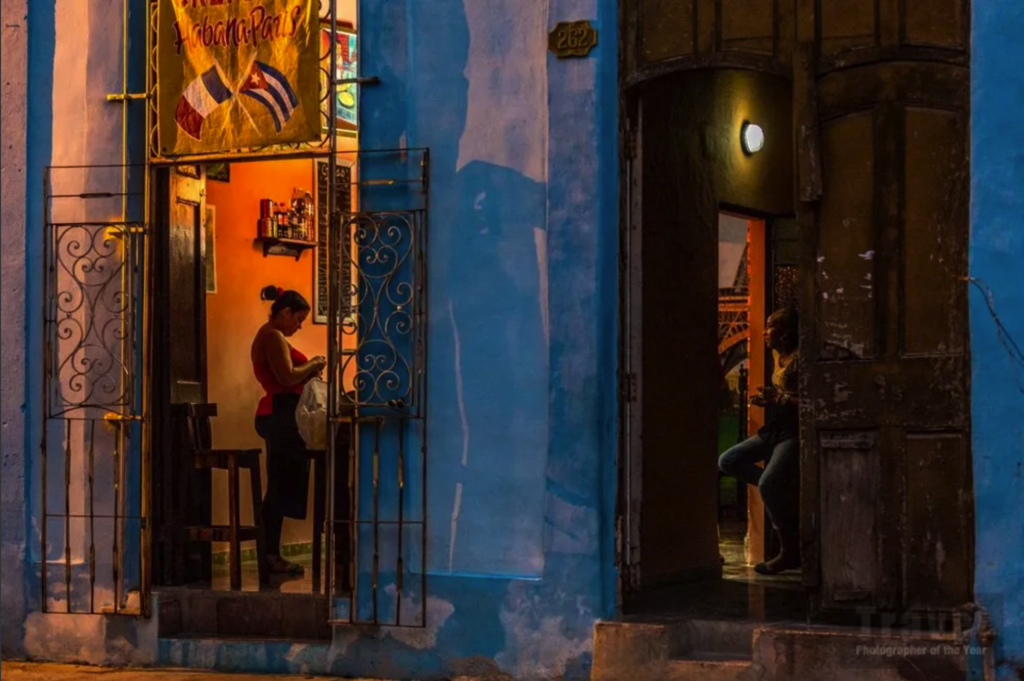 Another 2019 which caught the eye of the judges was Pavol Straňák whose shot incorporated the unmistakably Cuban car with yet with a curious narrative unfolding from within against a background of striking colour.
What can we learn from this?
To replicate what you've seen before only ends up reinforcing cultural stereotypes and perpetuating them further. In your travels you have the chance to get to know the people of the city first-hand and create images that show a greater understanding of the nuances of human nature in that place.
Making a personal connection with someone you meet – as Robin Yong did with José – is a great way to get yourself into unusual situations that would otherwise be hidden from view. You then need to be ready to react to the moment and capture it before it passes.
There are many bold, colourful and obvious moments in a trip to Havana but if you want to create something different with a more nuanced feel for the people who live in a place, you need to spend a bit longer looking for the moment and taking it all in as Sumit Dua did. An everyday moment in one place can feel very otherworldly and unusual when looked at from another.
Where else could you shoot nearby?
You could take the 15-minute Havana harbour ferry from the eastern end of the Malecón promenade to the suburb of Casablanca which is much less visited. It's an enjoyable way of joining in with Cuban culture and looking out, tactfully, for candid photo opportunities. In the outer areas of the city you'll find ebullient and friendly characters who are far less used to tourists. You may even get invitations to step into backstreet homes – great for impromptu interaction and portraits.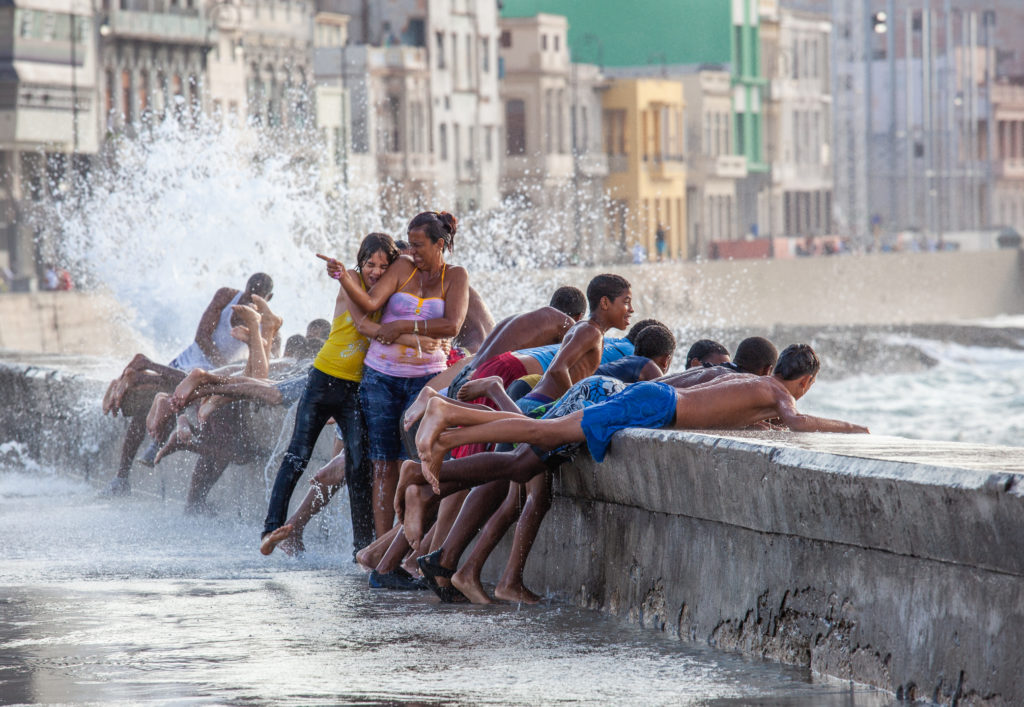 Cuba's second city, Trinidad, is a 180-mile drive away on the south coast and it also has a UNESCO World Heritage Old Town but far fewer foreign visitors. There's nothing staged or artificial about the infectious outdoor concerts and dancing in the square (but it's up to you whether you shoot and offer a tip to the fellow with the hen on his head in the central drag!).
Huge thanks to photographer and writer Tim Bird for insider knowledge, photos and help writing this piece.