In a world of easy travel it's not surprising that some highly photogenic locations feature heavily in the media, on photo workshop itineraries and photo competitions. This visibility in turn attracts more photographers to get the shot, often the same shot. In this series we look at some of these places and explore ways to photograph them differently, starting with Jökulsárlón glacier beach in Iceland.
Where is Jökulsárlón ice beach?
On the south coast of Iceland, about a day's drive from the capital Reykjavik, just off the Ring Road that encircles the island.
What is it?
A beach, but probably not as you know it. Crystalline ice blocks, like giant diamonds, strewn across a beach of jet-black sand glisten like crumbled obsidian while the wind rustles into arabesques of wave and spume along the shoreline.
How did it rise to stardom?
After the economic crash of 2008, a more amenable exchange rate and greater accessibility as a popular stop-off on the transatlantic air routes, Iceland went from being a mysterious treeless, snowy land on the edge of the frozen north to a much more common tick on the bucket list. Many a photography holiday operator has created an itinerary that takes in Jökulsárlón ice beach and glacier lake.
What do the typical pictures look like?
A sunrise peeping out from behind a salt-and-wind-sculpted lump of blueish ice. From roughly the end of August till early April (handily skipping the summer months when you'd have to be a serious insomniac to see the sunrise at all) this spot is afforded a ring-side seat at sunrise.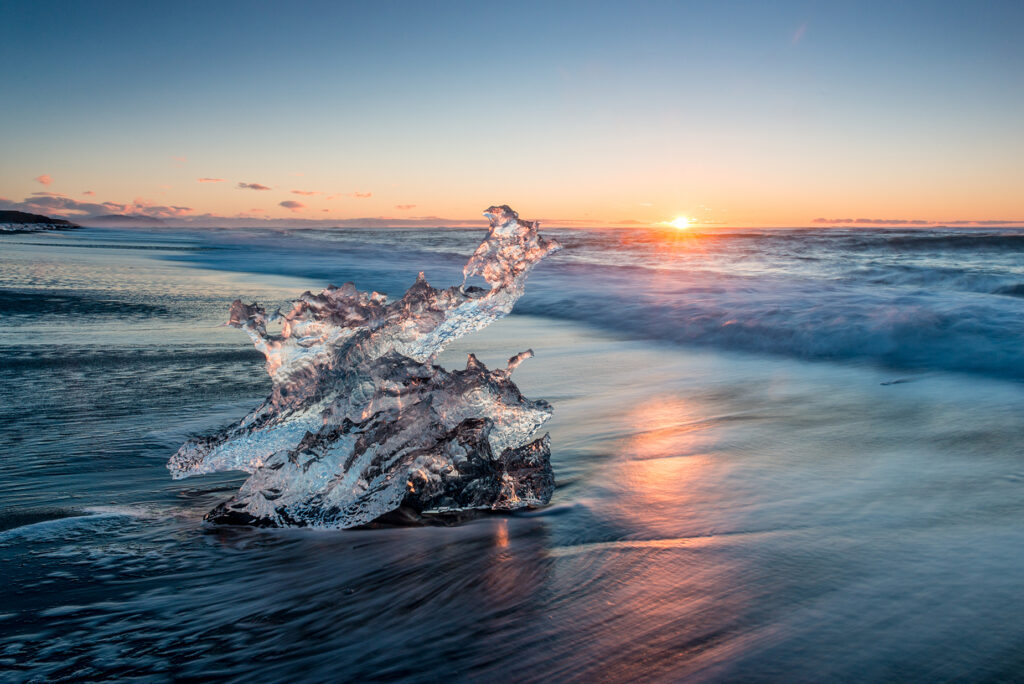 What's the problem?
You're probably not going to have the beach to yourself. In fact, on a particularly clear morning, you might be one of seven or eight photographers crowding round a single piece of ice. Those images might end up looking remote, peaceful and calming but the experience of capturing it is anything but.
Chris Coe, professional photographer and TPOTY co-founder says: "Each year we have entries taken in lots of the popular photo locations around the world. Jökulsárlón and particularly the ice beach is one of them. I've never actually been there myself and still don't have a sense of the place as so many of the pictures offer the same perspective".
But sunrise is the optimal time, the most beautiful time, right? "Yes, but not if you've already seen a hundred pictures that look identical," says Chris, "That's not going to win you an award. We want to see originality and creativity – a different point of view – a photograph where the photographer has been creative and found an original interpretation of the scene."
Are there winning shots of Jökulsárlón?
Yes! In 2015 young photographer Spencer Cox was winner of the Young Travel Photographer of the Year , 15 to 18 year old category, for his portfolio of Jökulsárlón taken on a dull, overcast day using the soft sunlight to reveal subtle tones in the ice and beach. The judges liked it because it isn't the usual sunrise and the tones are striking and simple.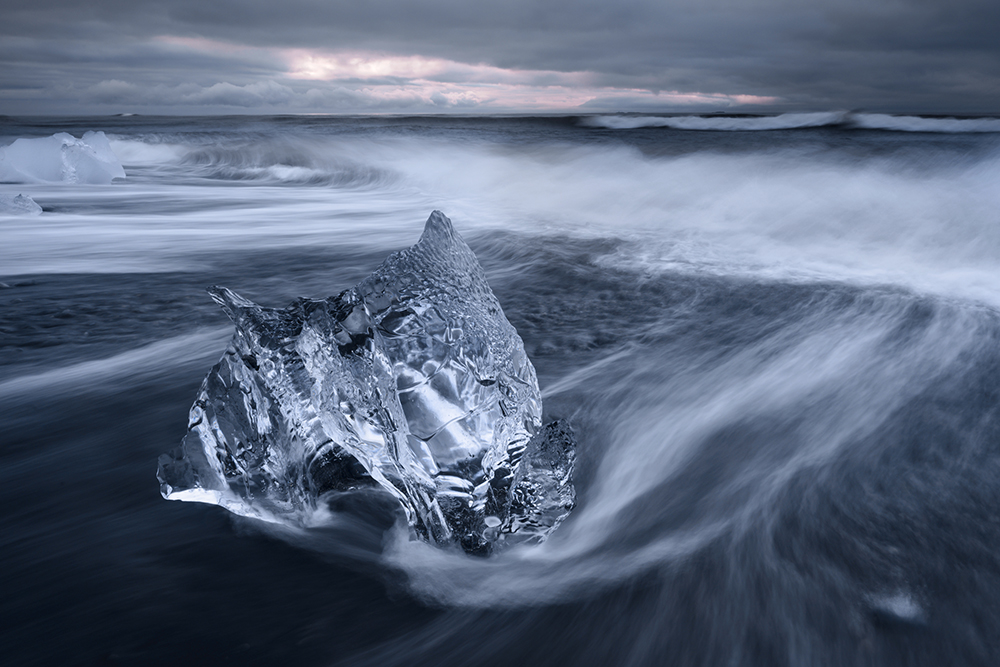 Another successful shot was a long exposure taken by Paul Sansome that won Judges' Special Mention in the Natural World category in 2018. Here the photographer has moved away from a more predictable snapshot, using long exposure to create long elegant wisps of water encircling the ice and retreating into the sea. The judges liked the colour palette of muted tones but predominantly the different creative approach to an often-photographed subject. Even using a square format adds something different yet the image works within this trickier compositional format.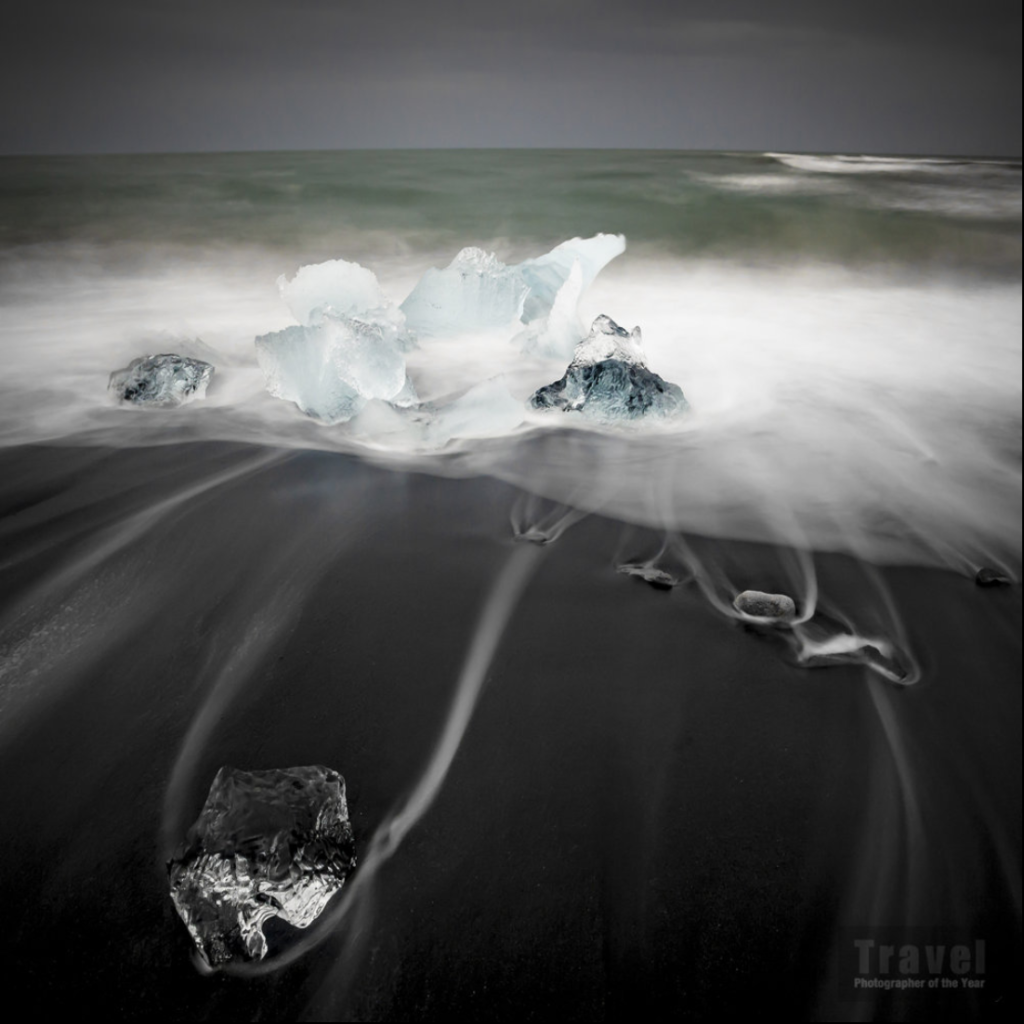 Chris adds: "It's interesting that both these shots would also work well as B&W images, and this is largely due to the compositional use of shape, tone and texture."
What can we learn from this?
These shots were successful because they are more than snaps. The photographers have thought about the subject as more than just the usual lump of ice and a nice sunrise. Wherever you are there is always a different way to photograph it, something which isn't just derivative of a shot you've seen before. Chris has some other suggestions that might help you make interesting and unusual shots: "At places like this there's a tendency to get the camera out immediately and start snapping away. But 90% of a good or great photograph is visualisation and you can't visualise unless you explore the location with your eyes first."
"You don't win good photo competitions by taking the same shot as everyone else and, as a photographer, where is the satisfaction in doing this anyway? For me, the thought process would use the obvious shot as a starting point and then be creative with a different viewpoint. For example, shoot along the beach, use the light direction at a different time of day, go out into the sea and look back or even put the camera in underwater housing and capture the water part-covering the lens".
Why IS there ice on the beach?
Sadly, the reason this beach is strewn with blocks of ice is because it's regularly shearing off the nearby Breiðamerkurjökull glacier as a result of climate change. Because the ice has been heavily compacted in the glacier for a long time, it takes longer for light to travel through it and this gives the lumps the electric blue colour.
The nearby glacier lagoon was only formed in the 1930s when the glacier first began to retreat. This is not a case of 'things to see before they disappear' and more a case of 'check yourself and do all you can to limit your impacts so that future generations can see these things too'. Reuters wrote a piece about it here.
Where else could you shoot nearby?
If we tell you, we'll have to kill you. No, seriously, travelling the ring road around Iceland is a very popular way to see the country but the vast interior of the island much less so. Find yourself a local guide with an off-road vehicle and explore for yourself.