The land of fire and ice has become a popular destination for photographers in much the same way that Cuba was a decade or so years ago. Iceland appeals to those who love the great outdoors, with expansive landscapes, active volcanoes, ice caves and glacial beaches plus, in winter, the chance to see the Northern Lights – Aurora Borealis. The appeal to landscape and adventure photographers is not hard to see!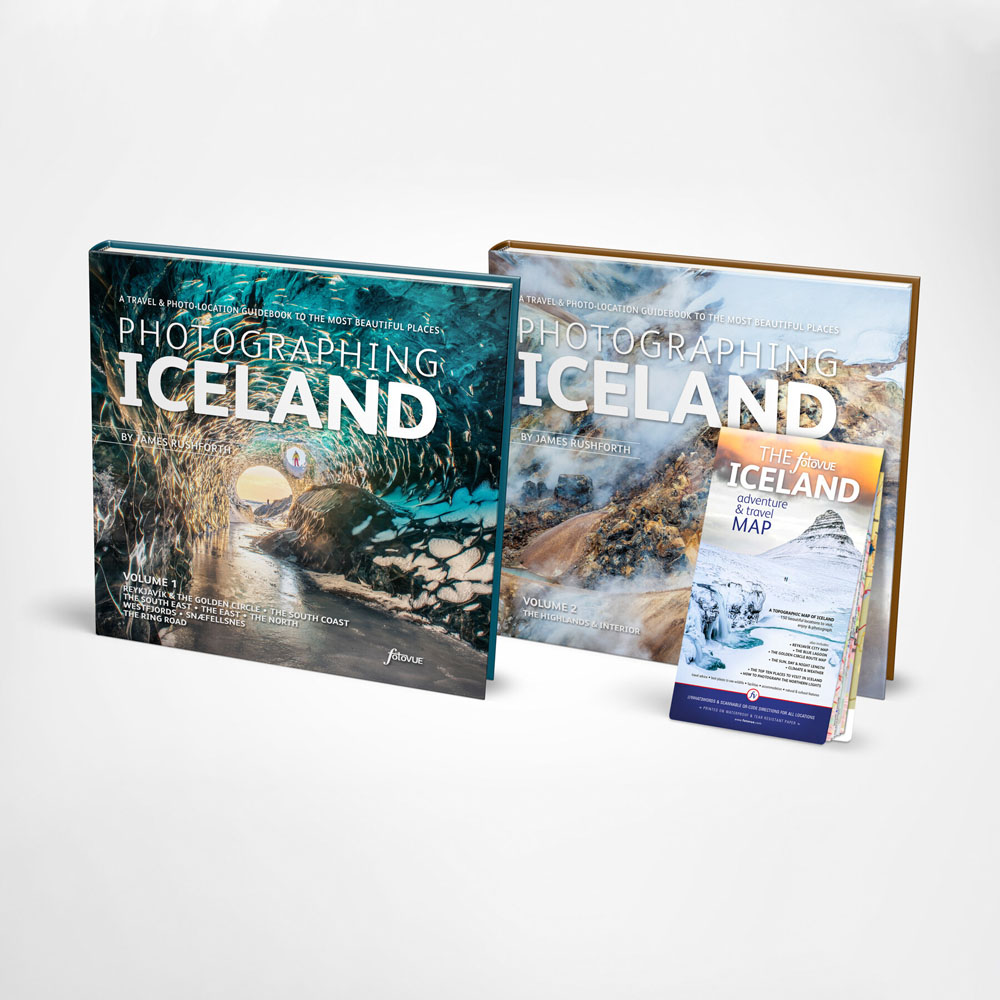 All these factors have led to an explosion in photography workshops with Iceland as their destination. The choice is quite bewildering. However, Iceland is also a good destination for the independent travellers and those who want to navigate the country themselves to be in the best locations before and after the tourists and photography groups.
Photographing Iceland is a two-volume guide to travel and photography in this country. It is the culmination of five years of photography, travel and research by photographer James Rushforth. These two books are comprehensive. Volume One covers the outer parts of the island, while Volume Two, a slimmer tome, covers the highlands and interior.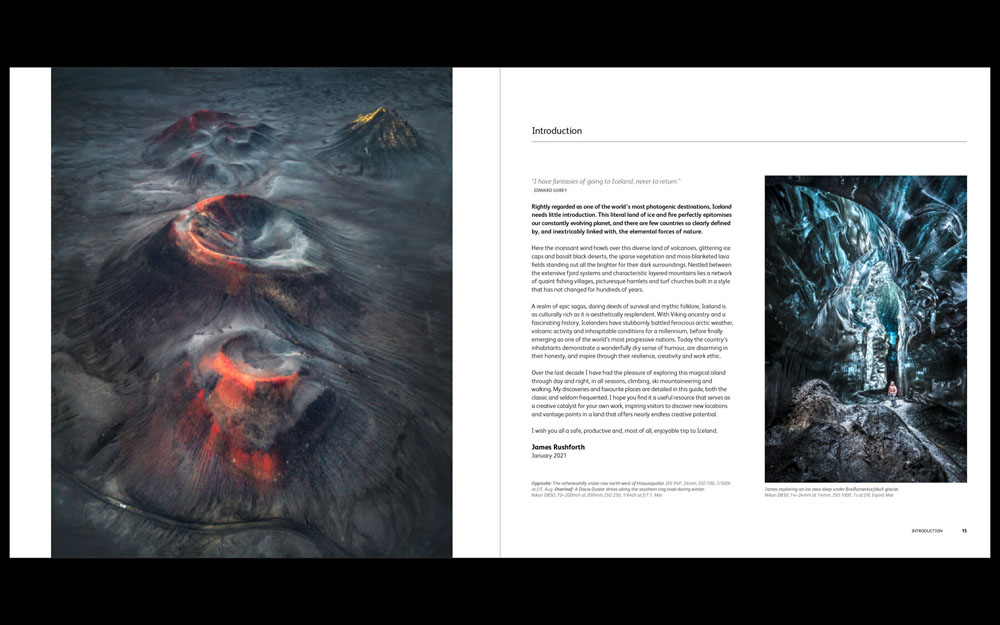 Each volume starts as a travel guide to the country with all the usual elements of getting around Iceland, the logistics – getting there from around the world (including connections with the Faroe Islands and Greenland), where to stay, the costs and other financial considerations, driving and hiring a vehicle, safety and sensible precautions when travelling etc. Iceland is not a difficult place to explore but much of it is a wild, unspoilt landscape with at time extreme weather conditions which must be respected and will bite you if you don't plan carefully.
A section on climate and weather through the seasons is a good place to start for travellers, but particularly for photographers. A 10-page section, after the general travel one, gives lots of useful information on what to expect climate-wise and points you in the right direction to find out more. There is also a brief section on how the climate and weather changes from season to season with tips as to when you can expect to see highlights like the Northern Lights.
Before taking us around the various regions on a photographic journey there's an overview of Iceland's culture, natural history and wildlife to set the scene for what you might see, experience and photograph.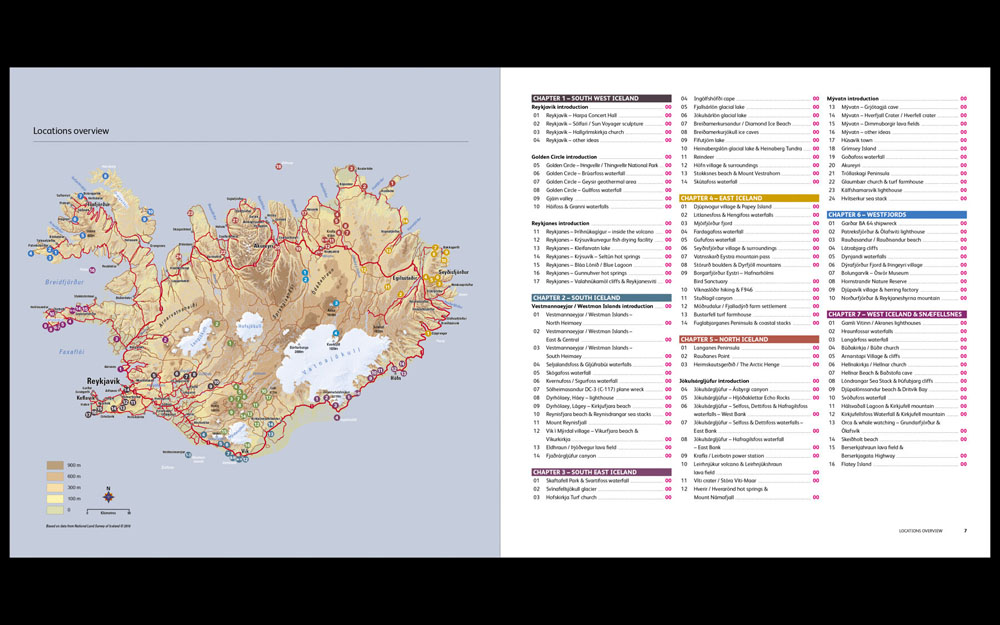 In Volume One, the photographic tour starts, as expected, in the capital Reykjavik and the surrounding South West of the country before taking us around the whole island, with a chapter for each main region. Each chapter starts with guidebook style approach to that region with more specific information on what to expect. It is here where the photographic element starts in detail.
If we start in Reykjavik as an indicator of the author's approach, there are maps and details of the best viewpoints of places of interest. Take Reykjavik's Harpa Concert Hall, the first place photographed in the book – in this instance the author gives three suggested viewpoints (including a QR code and What3words to help you locate them), with comprehensive information on how to get there, accessibility both inside and out, and the best times of day to photograph the architecture both in its fullness and in detail. For many photographers this will be all they need. The book isn't prescriptive though, and for others this gives you a very good starting point to explore and find your own unique shots.
From Reykjavik, Chapter 1 takes you on a tour of South West Iceland's Golden Circle and Reykjanes. These two areas are blessed with spectacular waterfalls a volcano, hot springs, cliffs and the Blue Lagoon – an introduction to spectacular landscapes almost immediately.
The other chapters in Volume 1 take you on a tour through the South, South East, East and North Iceland, Westfjords and Snaefellnes with maps and suggested routes. In each, the author recommends locations and viewpoints, each with a locator QR code, details of accessibility and when's the best time to shoot each one.
The smaller Volume 2 takes the same approach with introductory details, followed by chapters on the Southern and Northern Highlands.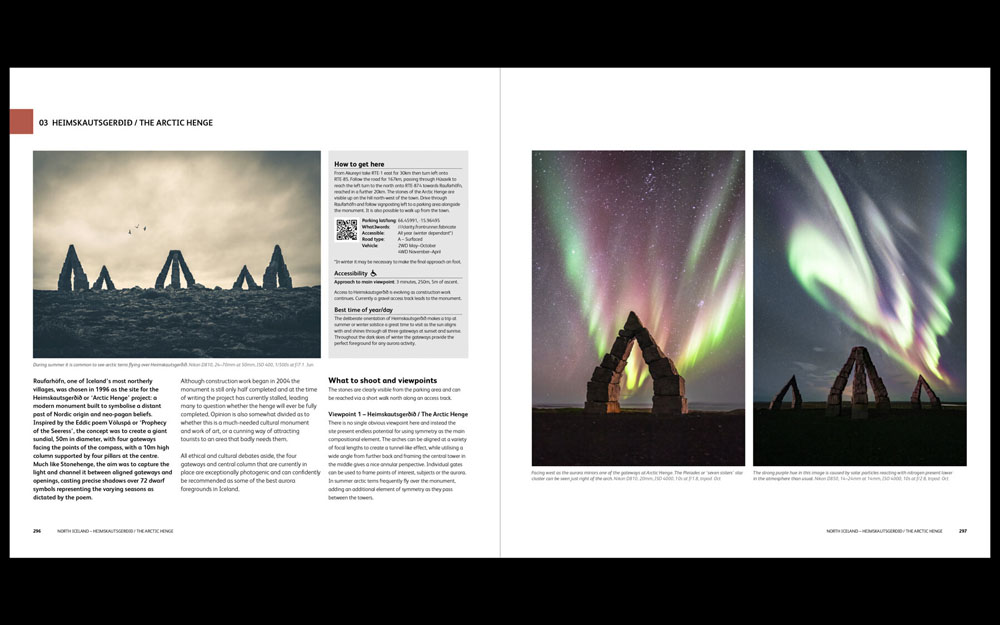 The last chapter in each book is an interesting addition. They deal with photography and photographic approaches to shots that aren't location specific life wildlife or the Northern Lights. It also takes you through aspects of photographing underwater, in an ice cave or from the air. Although not comprehensive for obvious reasons, it's a very useful addition for photographers and will help you to get shots that require lots of planning and may be a one-off opportunity.
Throughout both volumes there is a wealth of useful information and advice to help make your adventures both safe and rewarding. As photographers we get very wrapped up in the process of taking the pictures and it's easy to forget the small stuff, like taking enough water, food and kit for a long hike to a location and back. These sections remind us that photography in wild landscapes is not without risk but by planning for the whole adventure, not just clicking the shutter, these risks can be reduced to minimal. It's not just safety. It's also about being responsible as both a traveller and as a photographer. On a photographic workshop, a good organiser will take care of all these things for you. Travelling independently the responsibility falls on you and it is good to have the author's gentle reminders of sensible things to do and take with you.
So, what about the photography itself? Well the first thing to say is it's comprehensive! It's easy to see the huge amount of work and dedication which has gone into producing these two books. If you take Photographing Iceland (1 and 2) as just a travel guide book it puts the photography in most guide book to shame and reminds us of the days when the photography in the best guidebooks was shot by a photographer with an eye for an image, rather than a writer with a camera.
It's not a photo essay so, as you'd expect, not every photograph is a stunner but they are all properly composed photographs rather than snaps. And there are some stunning images throughout both books. Interestingly, and this is where you see the true photographer's craft, James Rushforth has shot everything himself, from the wide landscapes to the interesting details. He has shot underwater, subterranean and from above using a drone. All of these require different skills to do well and produce striking images.
Why would I buy this book? If I were a traveller I'd be getting a good guide book minus the specific hotel and restaurant recommendations, but with great visuals. Volume 1 is a big book so, even though it isn't hardback, it's not ideal for backpackers. It's more one for the suitcase. As a photographer it is so much more and it is photographers that it is aimed at. If I were on a photography workshop it would be a very useful purchase as it would allow me to immediately find the best spots once the group arrive at each location, giving me time to get some shots and then explore for different viewpoints etc. As an independent traveller, travelling on a self-organised trip, these books are a valuable resource and a must-have. To know the highlights and common viewpoints in each location gives you a great start and the tips and advice make things run more smoothly. Perhaps more important though, this gives you time to explore and photograph these places in your own style and with your own creative approach.
On a personal note, I'd like to applaud James for this undertaking. It must have been a huge project to pull this together and produce such a well photographed and informative publication. It is not easy to get any book published in a world which is increasingly orientated towards online. It isn't easy to get a well photographed guide book published and it isn't easy or cheap to publish a photography book. The author seems to have found a way to overcome all of these obstacles and produce a valuable and visually pleasing resource.
The book is available direct from the publisher, Fotovue, as single volumes with map, both volumes together or as a special edition hardback. It's also available for other booksellers.
Volume 1
Volume 2
Size: 250mm x 250 mm
Extent: 496 pages, full colour throughout
Cover: Paperback
Size: 250mm x 250 mm
Extent: 208 pages, full colour throughout
Cover: Paperback
We'll be giving away a copy of James Rushforth's Photographing Iceland through Eye for the Light in the near future so keep an eye out for that.